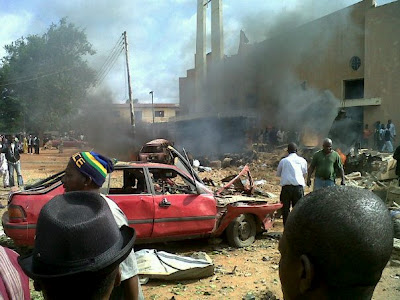 Kaduna death toll now over 100 as youths renew attacks
The number of casualties from Sunday's bombing of three churches and reprisal attacks in Kaduna State has risen to over 100, sources told The Eagle Online on Tuesday.
This was as fresh attacks erupted on Tuesday, leading to the re-imposition of a 24-hour curfew on the state.
The Eagle Online learnt that the fresh attacks on Tuesday began around Angwar Shanu, near Ungwar Rimi, where sporadic gunshots were heard in the morning.
It was gathered that the violence then quickly spread to some other parts of Kaduna metropolis.
The attacks were reprisals for the bombing of three churches on Sunday.
Two of the churches were bombed in Zaria and one in Kaduna.
In Zaria, 20 persons were killed during the bombing of the churches carried out while services were on.
In Kaduna, Christian youths embarked on a reprisal, which accounted for the larger number of deaths.
Residents of Kaduna, who were trying to go about their businesses after the state government relaxed the initial 24 hours curfew to 12 hours, scampered back to their homes following the renewal of the reprisal attacks on Tuesday.
The reversal of the curfew period was confirmed by the state Commissioner for Information, Saidu Adamu.
Adamu also confirmed the renewed attacks.
He said security agents have been drafted to contain the situation.