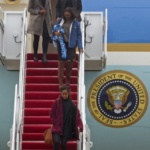 The Obama women may be getting ready to pack up their wardrobes to leave the White House, but their fashion is still fresh. On Monday, the first family landed at Andrews Air Force Base in Maryland after a family vacation to Hawaii, trading in their swimsuits and sundresses for coats and boots.
Malia, 18, was wrapped up in a maroon hooded parka and lace-up ankle boots. Under her jacket, she wore a black turtleneck dress with an empire waist and billowing skirt. Her carry-on was a tan leather weekender from Madewell.
Her sister Sasha, 15, kept warm in a shearling-lined denim jacket and knee-high boots over ripped black jeans and a beige sweater.
While the girls definitely brought their A-game to disembark the Air Force One, their mom took the cake — unsurprisingly. The first lady's gray velvet knee-length flared topper was the definition of regal chic. A hood made it practical, which is consistent with the rest of Michelle's wardrobe. Underneath she wore black pants and a matching shirt.
She added a little edge with a pair of Jimmy Choo biker boots. The $1,050 leather shoes feature gold buckles.
Oh, and, the man of the family was looking pretty good, too. In fact, he mirrored his wife's color scheme: his pants matched her coat and his cool jacket matched her pants. Oh the Obama's; always complimenting each other.
While there are only a few weeks left in their reign, this surely isn't the last time the Obamas' stylish sides will be on display.
. Yahoo.