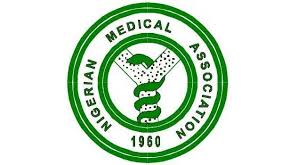 The Nigerian Medical Association in Kogi State on Thursday said all healthcare facilities in the state would remain shut until all its minimum demands are met.
A communique issued after an Ordinary General Meeting of the association in Lokoja, and signed by its Chairman, Dr. Godwin Tijani, and the Secretary, Dr. Zubair Kabiru, also directed its members in FMC Lokoja to proceed on sympathy strike on the first three days of every month.
The association said it has allowed, in its magnanimity, some of its members in FMC Lokoja to continue to offer skeletal services, despite declaring an industrial action.
It also said doctors managing the Lassa fever Centre at the Kogi State Specialist Hospital Lokoja, were allowed to attend to emergency cases and  private practitioners in the state  rendered healthcare services to the general public without hindrance.
The communique said: "The Congress believes that the Kogi Government has been given ample time and opportunity to resolve the issues at stake.
"Congress also noted the unfortunate development where some experienced medical officers were asked to proceed on compulsory retirement for no justifiable reasons."
The association said the industrial action would be sustained until their minimum demands are met.
Among them is the payment of the balance of 40 per cent salary arrears from August to December 2017.
Another is the payment of 100 per cent salaries and arrears for January and February 2018, as well as the implementation of the Revised CONMESS, among others.
The NMA said: "Henceforth, all healthcare centres in the state should remain shut until our minimum demands are met.
"All private healthcare facilities in the state will subsequently be shut down if there is no response from the Kogi Government in the next few days.
"Finally, NMA should not be held responsible for any consequences that may result from this action as the Kogi Government has had adequate time to avert these crises."
The association expressed gratitude to the medical elders for their counsel and appreciated all her members especially those who had been going through harrowing experiences, but have strictly complied with the ongoing strike.
The NMA in Kogi State on January 7 directed its members to resume a strike they suspended on June 22, 2017.