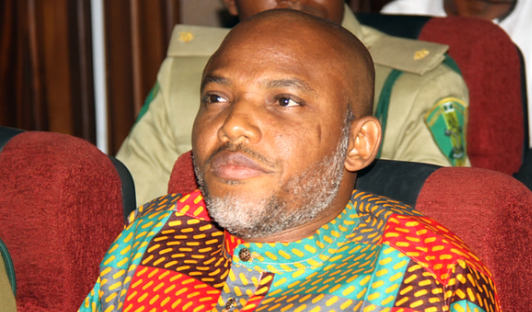 The police in Imo State on Friday arrested some women protesting over the continued detention of Nnamdi Kanu, the leader of Indigenous People of Biafra, for allegedly conducting an unlawful assembly.
Some of the women, mostly of middle age and from the South East states, were half nude, while others dressed in black and marched through the streets of Owerri.
They disrupted vehicular movement and other activities in some parts of the town.
The protesters chanted war songs and displayed different placards with inscriptions asking the Federal Government to release Kanu.
The women claimed that the security agencies knew the whereabouts of Kanu who has been out of public view since he had an encounter with the military in Umuahia, Abia State about one year ago.
They asked Governor Rochas Okorocha of Imo State to help them to actualise their dream of a getting Biafra.
The women later barricaded the popular Government House Roundabout and created a chaotic atmosphere around the area.
One of their leaders, Ann Ibe, told the News Agency of Nigeria that they came out in full force to fight for the actualization of their dream.
Ibe said they were ready to die for the cause.
When a special team of policemen sent by the Commissioner of Police, Dasuki Galadanchi, arrived at the scene, the protesters broke into a dance.
Some of them pulled off their clothes and danced naked, while others lay on the ground and dared the police.
The police succeeded in arresting some of the protesters in spite of their offering serious resistance.
Commenting on the development, the Public Relations Officer of the Imo State Police Command, Andrew Enwerem, said the women were arrested for conducting an illegal assembly and holding an unlawful protest.
NAN.