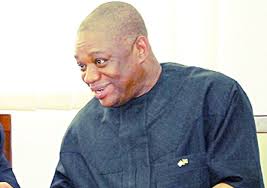 LAST week, a faceless treble of petitioners on ad hoc institutional platforms unsurprisingly called on the Economic and Financial Crimes Commission (EFCC) to conclude the prosecution of the former governor of Abia State (1999-2007), Dr. Orji Uzor Kalu, for alleged corruption while in office. The hare-brained petitioners insinuated that the anti-graft agency may have been compromised hence its lackadaisical and nonchalant attitude to the case.
The lack of surprise alluded to in the introduction to this intervention is because The Sun newspapers had been strident on their reportage of petitions by groups demanding the arrest, investigation and indictment generally and interdiction (against senatorship particularly) of the immediate-past governor of Abia State, Chief Theodore Ahamefule Orji, and others, for alleged financial improprieties while in office. The coincidence of The Sun information dissemination and the "reminder" to EFCC are so intertwined that a kindergartner will know the source of the retaliatory petition. Discerning members of the society can read the writing on the wall and immediately know the principal culprit. When the witch cries in the night and the baby dies in the morning, we know where to point the finger.
I do not know why the EFCC does not arrest frivolous petition writers who also indict it without any justification for gross abuse of due process and public ridicule of the agency and the suspects. Such an initiative will make malicious petition writers who cannot substantiate their charges to think through their plot before smuggling their lethal petitions into a few unsuspecting and distressed print media establishments, which are ever willing to undermine professionalism for survivalist peanuts. There is no room for any form of interrogation of materials as long as there is an accompanying mess of porridge! This explains why someone recently advocated bailout for the insolvent section of the Nigerian media—most of them have not paid salaries in the past seven months! So, why won't there be media abuse and corruption?
Another point that needs to be under-scored is that the case between Dr. Kalu and the EFCC is before a high court in Abuja and, therefore, cannot be a subject of contemptuous advertorials presented as news or pedestrian and jaundiced analyses. If these fictive hirelings know the consequences of their subjudicial conduct, they would show some responsibility and respect for the country's constitutional prescriptions and legal system.
The first time I commented on this matter was when, from the blues, Prof. Herbert Orji declared that Dr. Kalu mismanaged billions of naira he borrowed from 22 banks when he was governor. Expectedly, Prof. Orji concluded that Dr. Kalu's successor had been doing well even with lean resources and the debt albatross. As I stated in my response to this travesty, I said I had never seen this kind of professorial naivety. That was the height of patronage coming from a man who, ordinarily, had no business doing such a dirty job for a drowning governor.
Dr. Kalu vehemently insists that he borrowed only once from the defunct Bank PHB and liquidated the loan before leaving office. He goes further to affirm that he has the last statement of acount from the bank, which he collected shortly before leaving office. This kind of record could easily be verified. Is it possible for anyone to borrow from 22 of the country's 23 banks in this age of integrated banking, especially when it is a public sector transaction without collaterals and guarantees? Assuming it was possible, can the banks involved tell the public what the situation is: did Dr. Kalu take the alleged loans? How much was involved? Did he pay back? There are no privacy laws or clientele secrecy protection in this case as the Central Bank of Nigeria (CBN) has the mandate to direct the so-called 22 banks to avail the public with information on Abia State finances during the Kalu years and beyond. This will let everyone know who is lying and remove
the venal veil on this matter. Let me also point out that, in pursuit of his innocence, Dr. Kalu had written to the CBN Governor Godwin Emefiele requesting him to compel banks to publish controversial accounts details of Abia State from 1999 to 2015.
Similarly, it will be apposite to know the inward and outward financial flows in Abia when Cief T. A. Orji held sway as governor (2007-2015). Just as Dr. Kalu is being harassed and embarrassed over these matters, the case of his successor is even worse as most Abians suspect he turned Dr. Kalu's fiscal misperception to a child's play comparatively. In the circumstance, therefore, it has become imperative to examine the incomes and expenditures of Abia State between 1999 and 2015. This revelation will also give a true picture of the debt situation/overhang in the state from May 29, 1999 to May 29, 2015. This is the position that mercantilist commentators, armchair analysts, motor-park investment experts who could not manage a bank and questionable public contributors to the debate should be canvassing—and not indulge in juvenile subterfuge or plain stupefactiousness.
Between Dr. Kalu and his successor, this country should have organisational frameworks that wil establish between these ex-governors who borrowed what, from which financial houses, the utility of the loans, the audited documentation of these monetary chains, forensic evidences and input from former bureaucrats (particularly finance commissioners, accountants and auditors-general of the state) who worked with and for these erstwhile chummies. We need to get to the root of this matter—this novelty of blowing hot and cold amid ressurectional antics that becloud issues cannot benefit anyone—it is, indeed, an illwind!
I was not part of these two controversial regimes. If one of them insists that he did no wrong, can we contradict him with data or agree with him? If his opponent keeps mum over grievous allegations, we need to make him defend himself. Quite unlike Chief T. A. Orji: Dr. Kalu never owed civil servants—including staff of tertiary institutions—for one day; lawyers in the state were never on perpetual strike all through two terms of poorest governance in the history of Nigeria (and up till now!); there were no multiple, unjustifiable, taxation; destruction of opponents' buildings; there was no official surrogacy except the unfounded and malicious linkage of Dr. Kalu's administration to his mother viciously nomenclatured "mamacracy"; no case of politically-motivated abduction (including this writer); no media propaganda as a state policy, lies; local deceits/national-cum-global deception, no witchhunt of predecessor; no rascals as vanguard; no
hungry patriots; no beggarly elders; no compromised elite; no presidential/First Lady's protection and shield from EFCC, among other spousal benefits; intimidation of Abians; no external billionaire (Prince Arthur Eze) assessment and write-off, and the despicable list goes on interminably!
I keep asking, what was Aba, as a reference point, in 2001 and first half of this year? If both former governors visit the city today unaccompanied by overzealous aides and psycophantic elements, who will be stoned and splashed with satchets of processed ("pure") water?  This is a simple barometer of the two personalities. We do not need to complicate issues involved in this case of a master and his one-time "boy". For me, these personality profile challenges are simple if we do not want to sweep them under the rug or pigeonhole one while adumbrating the spuriousness of the other because of the victim's international reputation and recognition having unprecedentedly and inimitably bestrewn the domestic axis like a colossus decades ago.
Again, who were both men under reference before becoming governors? While as an under-30 Dr. Kalu had become a milionaire by British standard and principal owner of the flourishing Slok Group of Companies comprising virtually all forms of bluechip businesses—majorly oil, banking, hotel, publishing, telecoms, property, maritime and automobile entrepreneurship, among other investment portfolios. By the way, Dr. Kalu may not be as educated as some people would have expected, going by recent veiled outbursts,but his intellect is so profoundly rich that only a few professors can beat him in cerebral contests. Dullards—as opposed to school dropouts—do not become highly successful business moguls. Most of the richest people in the world today and in the past never had the benefit of "complete scholarship", yet they employ the best of brains in the world to work for them under their directorship and supervisory prowess. Education is good, but should
not be foolishly elevated beyond general human intellect. Otherwise, most professors and charge-and-bail lawyers would not be wretched!  In Nigeria today, some first-class graduates remain for years without employment. Even Ph.D holders these days apply for driving jobs in Aliko Dangote's companies! Issuing from the above, what is the fuss about Dr. Kalu not having a bagful of degrees!
As for Ochendo, nobody knew about him until Dr. Kalu made him his Chief of Staff and thereafter unilaterally foisted him on Abians as his successor! In terms of scholarship, there is nothing sparkling about Ochendo either. He was just lucky to have assisted Dr. Kalu, according to some fairy-tales, in his ascent to becoming a governor in 1999 and as a way of compensation, Dr. Kalu ensured, to his greatest regret in life, that Ochendo became his all-powerful Chief of Staff and subsequently governor by default. If this accidental relationship is true, then the retrogression, retardation and despoilation of God's Own State can now be unfortunately contextualized. I just hope that this ugly trend will not worsen with the single-handed installation of Governor Okezie Ikpeazu by Ochendo and his magisterial son.
In rounding off, as I had consistently avowed, murderous calumniation and demonization of Dr. Kalu through mechanistic and sponsored advertorials, bizarre analyses informed by professorial naivety, hack interviews in the print and electronic media, character assassination via libelous leaflets and other specious and provincial publications in the South East (and Abuja for strategic reasons), withdrawing his honorary certificates, futilely demystifying him, planning to attack The Sun offices and printing location in Aba and its environs, among other clownish stupidities, do not and cannot address the substantive question of Abia debt hang (1999-2015).
Let the CBN, Federal Ministry of Finance, the Auditor-General and Accountant-General of the Federation, all the banks in the country speak up on the income and expenditure of Abia State finances between 1999 and 2015. This will go a long way in the dispasionate resolution of associated controversies by the two gladiators in question. Buckpassing and name-calling are merely diversionary. Nigerians at home and in the Diaspora must deal with the problem directly by getting these two former pals to account for their questionable stewardships as governors for 16 blemished years. That is the only way to end this issue clinically. Endless and staccato media acrobatics and kamikaze warfare by both ubiquitous camps are like pouring water on a stone or in a basket or using torn PDP umbrella as a shield in ecology of change and transformative ethos!
I conclude by agreeing witht the Second Republic Justice Minister and Attorney-General of the Federation, Chief Richard Akinjide (SAN), that governors are the biggest thieves in the country—who steal to incapacity of salary payment! Even with circumscribed resourses—as oppsed to current superfluity of statutory funds and IGRs—there was no need for bailout during Dr. Kalu's tenure because of prudent management of public funds, domesticated in post-Kalu years! At this point, we need external auditors of repute.
Overall, Dr. Kalu is light, but Ochendo is pitch darkness. OUK may be bad, but T. A. is affirmedly and unimpeachably worse, worst (excuse my superlative linguistic licence). Both of them remain two sides of the same coin. My boss admittedly laid the foundation for the rot in Abia by imposing his errant successor on us, while his amnesic puppet and eternal ingrate skyscrapped the fatalistic ghastliness of my 24-year-old state. This explains why most independent critics uncharitably enthus that both men are kettle and pot! We shall soon know the truth and indeed who is blacker than the other between them—or the snow as the case may be! In addition, who has been the liar in the past 16 years?
The constant truth and final word is that Dr. Kalu's EFCC's travail is sheer victimisation for not supporting former President Olusegun Obasanjo's third-term fiasco and harsh, almost virulent, attacks of his inexplicable presidential neglect of South East. Any other thing is make-believe!
LAST LINE: Ludicrous miscreants (vide THISDAY of August 2, 2015) who in their imbecilic idiocy declare that my diligent defence of Dr. Kalu is essentially to justify my pay must be suffering from psychoanalytic contagious disorder! What else am I supposed to do? It is only buffoons who will question our relationship and my unequivocable stance on the rape of Abia from 2007 to 2015 in the waterbed inadvertently inaugurated by my assiduous and outspoken principal for his ungrateful stooge and unarguable ultimate nemesis!
Wabara ([email protected]/08055001948) is the media adviser to Dr. Orji Kalu.