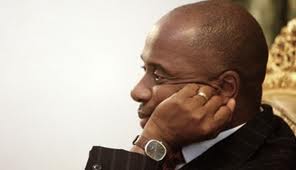 A former Rivers State Commissioner for Agriculture, Emma Chinda, who alongside former Governor Rotimi Amaechi allegedly diverted N4 billion Central Bank of Nigeria agriculture loan for political purposes will be arrested if he fails to appear before the Justice George Omereji Judicial Commission of Inquiry.
Justice George Omereji gave the ruling on Tuesday after the counsel to the Commission, Dr. Zacheus Adangor, moved a motion for Chinda's arrest following his failure to appear.
The Commission further directed that all the former council chairmen and commissioners used by the former administration to allegedly divert the loan, which was converted to non repayable grant, also appear to state their own side of the story.
Summons were duly served on all the affected parties to participate in the public hearing of the Commission, where they are expected to defend themselves against grave allegations of wilful diversion of state development funds for political purposes.
The commission directed that the summons to the former officials be published in the state owned Tide newspaper.
The commission said if after the publication they still refuse to appear, it will order for their arrest.
The commission adjourned till August 26.
The Chairman of the Agriculture Credit Scheme and a Director of Planning at the state Ministry of Agriculture, Chijioke Grant Amadi, on Monday in his testimony blamed Chinda for the illegalities that characterised the management of the N4 billion agriculture fund.
Also, the Permanent Secretary of the state Ministry of Agriculture, I. O. Okoye, said she was excluded from the management of the fund, though she is the Chief Accounting Officer of the Ministry.
Amaechi, who allegedly converted the fund approved by the administration of former President Goodluck Jonathan for the development of food production in Rivers State,  reportedly diverted same for electioneering campaign, which he shared to different local government chairmen under the guise of phantom cooperative societies.