You would agree with me that not all relationships are meant to end in marriage. If only people were true to themselves, there would be fewer divorces.
A good percentage of marriages were contracted out of the need and longing for sex, which is a wrong reason by the way.
This is because sex alone cannot keep a marriage going. I know most religious faiths preach abstinence from sex before marriage. My question is: Is it valid in this day and time?
We were created to want and need sex, so it is a desire that begs to be fulfilled in every human. This may seem too carnal for some people but it is the truth. We do need sex and we shouldn't be afraid or ashamed to crave and enjoy it.
I believe it is time to restructure the institution of marriage and revere it for the right reasons, not just for sex.
When sex is out of the way, it is easier to look for the qualities you desire in a life partner. Most often than not, sex overshadows all other things. And by the time the euphoria clears, it is usually too late. Hence the divorce rate keeps getting higher.
So let's demystify sex and just enjoy it for what it is.
So how can one enjoy sex outside of marriage?
I'm sure you must have heard of the phrase "friends with benefits". It refers to an agreement between two people based solely on fulfilling each other's sexual needs. In this arrangement, there is no emotional attachment or commitment. It is purely for pleasure.
This noncommittal sexual relationship can also work for married couples because human nature is dynamic. Sex in a marriage gets boring after a while.
To keep the flame burning, couples could try:
Swinging: this involves the swapping of sexual partners within a group. It doesn't have to be a large group. It could be an agreement/arrangement between two or three couples. It can get tricky though when feelings start to develop. So this is not for everyone.
Another twist to this is for the couple to have a playmate, who would help liven things up in the bedroom. He could be male or female. The choice is up to the couple. The most important thing is to have an agreement and discuss the terms and boundaries before getting into it.
Orgies are another exciting outlet. It is strictly for the open-minded and adventurous. It's a party where sex is the main menu. You can have sex with as many people as you want, mostly strangers. You don't have to know them or stay in contact with them. It's just like a one night stand, but with more than one person.
Staying safe and protected is key in any of these situations. It is also crucial to know that these suggestions are not to foster immortality, but to bring couples closer by aiding better communication and having more fulfilling sexual experiences.
These things are happening anyway. Why not throw it open?
Feel free to contact me for more fun ideas.
Our game night comes up on Friday, April 15, 2022. Tickets are out, limited slots available.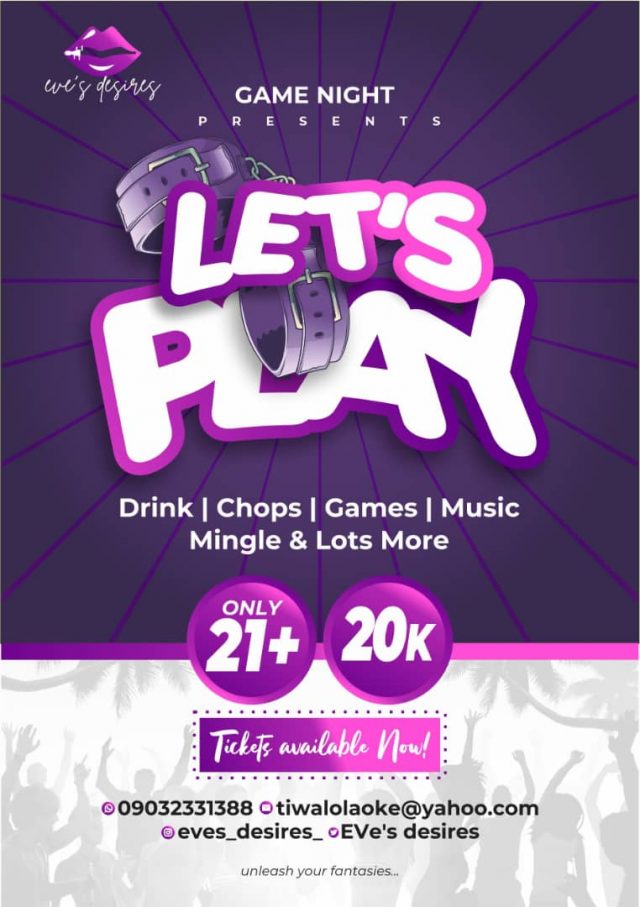 #tiwa_ssys; tiwalolaoke@yahoo.com; 09032331388.