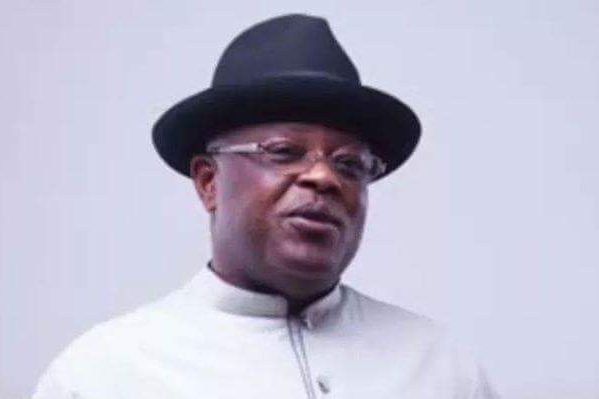 Anti-corruption war: Gov. Umahi advocates amnesty for treasury looters
Governor David Umahi of Ebonyi State has advocated the adoption of amnesty strategy and reciprocal bargaining as means of recovering looted funds from alleged corrupt public office holders.
Governor David Umahi of Ebonyi State has advocated the adoption of amnesty strategy and reciprocal bargaining as means of recovering looted funds from alleged corrupt public office holders.
The Governor raised the advocacy on Monday while flagging off a one-week Anti-corruption, Ethics and Integrity Training for Ebonyi State Local Government Officials, held at the Akani Ibiam International Conference Centre, Abakaliki.
Umahi, who linked some corrupt practices to poverty and ignorance, noted that granting amnesty to alleged looters of national treasury would provide the possibility of returning looted funds better than imprisonment, which has proven to be counter-productive.
The Governor, who is also the Chairman, South East Governor's Forum, stressed that there was the urgent need to critically evaluate the direction and methodology adopted in the fight against corruption in the country with the aim of making it more pro-active and preventive rather than reactive.
He emphasized that training by the anti-graft agencies would enable handlers of public funds to better understand the rules and provisions of anti-corruption laws, thereby reducing the incidence of corrupt practices, adding that some officials get involved in corruption as a result of ignorant mistakes.
Umahi explained: "My personal opinion, which does not undermine any other opinion, is that… we have to now take another critical look at our nation.
"One thing I advocate is amnesty to the looters of the nation.
"When this Act came into being, many people were not aware just like you are here today and I thank you for always doing this in all the states, trying to let our people know the 'dos' and 'don'ts' because many people are not aware of these rules.
"I agree that some people cleverly looted the nation, while others made mistakes….
"But we can put the two side by side and say, let him that steals steal no more.
"We need the money…we can do 70/30%, bring 70% back here or even invest it."
Stressing the need for conscience in the fight against corruption in the country, Umahi added that his administration decided to overlook the financial mess of his predecessor so as not to be distracted in his mission of guaranteeing a better future for the State.
He said: "When we came on board, it was not as if the past administration did not mess up but we decided to be forward looking.
"Most of them do not have the money again, so all that you will end up doing is sending them to prison.
"Their dependants would be impoverished; there would be agony and hatred in their children and they will grow up with that same spirit."
While commending the Independent Corrupt Practices and other related offences Commission for anchoring the training, Umahi noted that the highest proportion of the privileged rich in the country made their money from Government and urged public office holders to adequately care for the welfare of their aides so as to avert bitterness, which also predisposes to corruption.
He said: "When we begin to have value for the next person to us, then it will be very good.
"Some of us go to eat and the driver will be in the vehicle.
"Some of us will be sleeping in the hotel while the driver will be sleeping in the vehicle.
"In so doing, we are breeding a society of hatred, anger and bitterness.
"What I am saying is that we should come together as a nation and agree to map out strategies like this to encourage prevention; to be proactive than reactive.
"To me, that is the way to fight corruption.
"So, we must have conscience.
"As we are punishing others, we must know that we are all equal before God and in the face of God, and before God, we shall all be judged."
In his remark, the Acting Chairman of ICPC, Musa Usman Abubakar, represented by the Director, Public Enlightenment of the Commission, Rashidat Okoduwa, appreciated Governor Umahi for approving the training.
Abubakar noted that the ICPC has a three-pronged mandate against corruption, which encompasses enforcement, prevention and public education, adding that it established the Anti-Corruption Academy of Nigeria to carry out training and research on anti-corruption issues "being guided by the age-long saying that prevention is better than cure".
While advocating the need for Nigeria to take its rightful place in the comity of nations by enthroning integrity, transparency and accountability in public office, he urged Ebonyi State public officials to always strive to justify the providential slogan of the State as Salt of the Nation.
He remarked: "As Salt of the Nation, a State that is envisioned to be a guiding light to others on goodness, virtue and integrity, let every official in the Government machinery be guided and inspired by this responsibility that providence has placed on the Ebpnyi people and resolve to continue to be models of everything decent and good.
"Integrity, probity and a sense of accountability in the discharge of official duties will go a long way in fulfilling the electoral promises of the Governor and bring good governance to the people of Ebonyi for enhanced development and wellbeing."
In a goodwill message, the State Commissioner for Local Government, Chieftaincy Matters and Rural Development, Samuel Okoronkwo, under whose Ministry the training was organsed, eulogized Governor Umahi's transparency and accountability, which he said has earned the State national and international recognition.
The Training was organized by the state Government in collaboration with the ICPC and the Foundation for Transparency and Accountability.