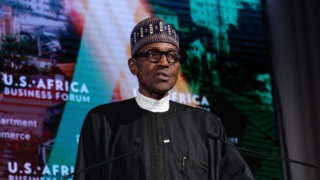 Senator Ita Enang, the Senior Special Assistant to the President on National Assembly Matters, on Wednesday said that President Muhammadu Buhari assented to over 30 bills in a year and six months.
Enang, who made this known while briefing newsmen in Abuja, said the achievement was worthy of note.
He commended the 8th National Assembly for being able to pass the bills within a short period, describing it as a great feat.
According to him, the period of the inauguration of the 8th National Assembly has been rewarding, interesting and active as well as productive.
Enang said: "This National Assembly under the leadership of Dr. Bukola Saraki and Yakubu Dogara has been very rewarding in terms of legislation as seen in the number of bills passed.
"This shows that as the legislature ages, more of its powers are being exercised.
"Some days ago, Mr. President assented to a little over about 30 bills within one year and six months of the inauguration of this present National Assembly.
"This surpasses every record that has been made by the legislature since the advent of democracy in this republic.
"This in my opinion is about the principles of this administration that each arm of government will concentrate on its core responsibilities and the legislature has concentrated on its core responsibilities.''
He also praised the executive and the judiciary arms of government for the achievements recorded so far.
Enang said: "Therefore, it is wise for us to say congratulations to Mr. President, the legislature and the judiciary."
He further commended the media for detailed coverage of the activities of the National Assembly within the period under review.
However, he urged Nigerians to respond more to public hearings on bills, organised by the legislature.
According to Enang, public hearings will afford Nigerians the opportunity to contribute their quota to making robust laws that will benefit all Nigerians.
On whether or not the 2017 Budget process will be devoid of irregularities as witnessed in the 2016 budget, Enang assured that the process would be smoother and shorter.
According to him, the 2017 Budget will not create controversies in view of improved level of consultation between the legislature and executive.
He added that the improved relationship between the two arms of government was evident in the level of consultation that took place before the presentation of the budget by the president on December 14.
Enang stated: "There was front loading with the legislature by the executive, wherein, the ministers consulted and related with the chairmen and members of the respective committees in building up the budget."
Copyright The Eagle Online.
Permission to use quotations from this article is granted subject to appropriate credit being given to www.theeagleonline.com.ng as the source.
Follow @DEagleOnline