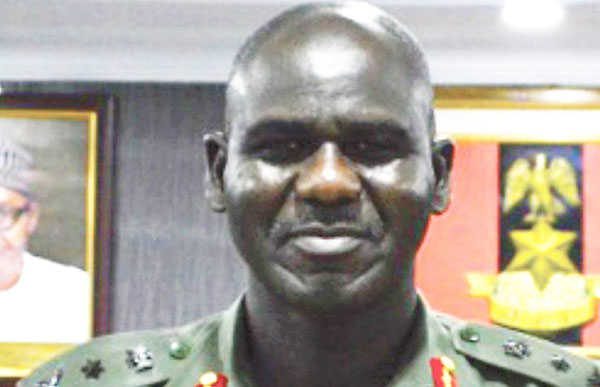 Why I am in love with Buratai, by Joyce Tallen
This sleepless night met me in Jos, Plateau State, where I was spending my annual leave with my mother and siblings. Working in Kano city was a bit hectic. So, job vacations offered me real time for relaxation. I eventually fell asleep.
I am a smooth sleeper. Everyone around me knows. Once I jump onto my bed at nights, I waste no time, but go into deep slumber. But the night of April 13, 2014 was something else. I retired to bed as early as 8pm, but sleep was elusive. I was restless and tossed on bed from one angle to another. I could not understand the reason for my nervousness.
This sleepless night met me in Jos, Plateau State, where I was spending my annual leave with my mother and siblings. Working in Kano city was a bit hectic. So, job vacations offered me real time for relaxation. I eventually fell asleep.
I woke up the next morning by 7am because of the sound of my  ringing phone. My childhood friend, Salima, a resident of Abuja, was calling.
Her traditional marriage was that morning in a village around Suleja in Niger State. I was to meet her in Abuja that morning for the ceremony. As I picked her call, a panting voice, almost inaudible, invaded my ears. "Terrorists  ooooh! Boko Haram," she exclaimed. "Terrorists what?" I asked with a shaky voice.
"They have just bombed Nyanya Bus Station in Abuja," she replied. "Whaaat?" I exclaimed. "Many people have been killed, and there is confusion everywhere," Salima added, amid tears and hung up the phone.
My blood ran cold and it dawned on me why I was restless the previous night. Instincts were telling me I would not attend my best friend's traditional marriage because of this unforeseen incident.
Throughout that day, I was restless and sad as I could not attend Salima's traditional wedding. The day reluctantly dragged to dusk and before midnight, a television channel flashed breaking news with the headline: "Boko Haram terrorists abduct scores of female students from the Government Secondary School, Chibok, Borno State." My spirit finally dampened. That night I gave up hope on Nigeria's recovery from terrorism and resigned to fate.
Jos is a city even natives find it difficult to survive the extreme cold in winter. No one gets used to it. You could live your entire life like in the ancient coal mining city, but can never be a friend of its coldness. It is more pathetic with visitors, who recount ordeals of heated water in a bucket, getting cold before you rush through a round of bath.
Though I was born and bred in Jos, but work ferried me away to Kano, where I have spent nearly 10 years working in the accounts department of a mega construction firm. The pay was good, so I never bothered the distance kept me away from my lovely mother and only surviving parent.
Although our mother's name was Monica Nanshep Tallen, but all her children fondly called her  "Mama Piller" for her courage to raise four children alone through petty trading. But neighbours nicknamed her "Mama Queen" after the last born in the family, Estie.
Estie, my younger sister, is a paragon of beauty and a charming character you would hate to miss her company after the first contact. She was very engaging right from her toddler age and grew up with the habit. She is very caring, good-mannered, sociable and religious. She is naturally gifted. We encouraged her never to depart from these qualities of a potential virtuous woman.
In Kano, my daily routines hardly spare time for my leisure. Aimless journeys were out of the calculation. In fact, there were nights I felt like tendering my resignation letter the next day, especially, when I am denied three days permission after months to dash into Jos to catch a glimpse of mummy to say hello.
We were a family of five, comprising myself, Josephine, the eldest; three other siblings John and Austin, with Estie; and our mother. The family kissed poverty and misery after our father's death. Our father, Nanshep, mother told us, was a caring husband and father. But death snatched him when we were still kids.
Our mother, a petty trader at the Jos main market, braved the odds to raise us alone. We were happy and proud of her for ensuring we all acquired western education.
The first three of us were already graduates and God gave us jobs. Estie was the last graduate in the family. By December 2013, she was posted to Yobe State for her compulsory one-year National Youth Service Corps programme. It was the age of heightening Boko Haram terrorism in the North East region and Nigeria. And Yobe State was one among the states in the region under persistent exchange of gunfire between  terrorists and soldiers.
We heard all manner of stories of Boko Haram atrocities, attacks, raids, bomb explosions and abductions. They were scary and disturbing. We lost our hearts each time we hear of a successful sacking of military or security formations by terrorists. The killing of security agents and seizure of their weapons all intensified the morbid fear of terrorists in us, wherever you were in Nigeria.
Our family was worried that little Estie was thrown into the midst of this furnace. We prayed and prayed, beseeching God to protect the lives of corpers to come back home safely. We received assurances of hope from acquaintances that since Estie was serving in Damaturu, the state capital, the risk of exposure to terrorists was minimal, unlike the remote areas. The explanations never assuaged us, but there was nothing we could do in this circumstance. Eventually, Estie clocked nine months in her service year.
But an incredible incident happened in Damaturu. Boko Haram insurgents attempted to capture Government House, Damaturu. This was after they made similar attempt on Government House, Maiduguri. And on each occasion, it took troops several hours or a whole day to repel the terrorists' invasions. Mum and I called Estie, and she expressed worry, but said she was okay!
Elsewhere in the North East, Boko Haram was sacking villages, communities and killings occurred unrestrained. They invaded markets, banks, raided schools and ambushed travellers. They killed recklessly and abducted innocent Nigerians, including women and children whom they ferried as prisoners of war to hideous camps within Nigeria. They captured several local governments in Nigeria, disposed traditional rulers and imposed their crude version of Islamic caliphate.
Nowhere in Nigeria was safe any longer, as terrorists started expanding their conquest of Nigeria, with ingress into the Southern part of the country.  Fear and insecurity loomed everywhere. But the central government appeared helpless. Troops on the battlefield would sometimes be captured by terrorists or bid a retreat from the warfront.
By early 2015, insecurity in Nigeria overwhelmed Nigerians and the masses clamoured for change. The presidential election of that year made a historical statement in change, as Nigerians for the first time in its democratic history, unseated an incumbent President, Dr. Goodluck Jonathan. A retired warhorse and democrat, President Muhammedu Buhari, was elected as Nigeria's political leader.
One of the series of initial decisions' of President Buhari was the overhauling of the security architecture of Nigeria. New Service Chiefs were appointed. And a soldier, Lieutenant General Tukur Yusufu  Buratai, who would later prove to be a no nonsense combatant and warmonger, was appointed Army Chief and leader of the counter-insurgency operations in Nigeria.
I dismissed Buratai, just like I dismissed his predecessors, because I thought only names have changed, but terrorism would fester. But Buratai later proved me wrong.
Before my younger sister Estie could finish her service year by end of 2015, she constantly gave us security situation reports from public eye. It indicated that terrorists were being trapped on their tracks now. That the usual fanfare of terrorists' raids in the North East is gradually receding. This reality began to dawn on me that I felt guilty that I judged Buratai wrongly. "He is not like the other Army Generals on his seat," I said to myself.
I really felt remorseful and I started loving him and followed his exploits on terrorists closely.
To my greatest surprise, I discovered Buratai has a passion for war, the true mark of a soldier. He would lace his boots and khaki, then hop into the trenches or desert with his troops, battling Boko Haram terrorists. He posted Nigeria's success against terrorism so fast that insurgents could no longer access major cities in Nigeria to detonate bombs and could not freely abduct Nigerians anymore.
Buratai reclaimed all Nigerian territories captured by Boko Haram insurgents. Most happily, my sister Estie and colleagues completed their service year and journeyed back home safely without the fear of ambush by terrorists. Life rejuvenated in the once forlorn North East.
If I were to write a diary of Buratai's confrontation with terrorists, the page would read like this: General Buratai's troops decimated terrorists by December of 2015; defeated terrorism by December 2016 with the dismantling of the dreaded and evil Sambisa forest, kept Boko Haram factional leader, Abubakar Shakau, on the run and engineered the massive surrender of top Boko Haram commanders; reclaimed all Nigerian territories annexed by terrorists and the ongoing clearance operations in the North East to rid communities of remnants of insurgents.
I admire Buratai for his selflessness and patriotism! I love his courage and resilience. I love his passion for the job; I like his guts; I love his dexterity in counter-insurgency operational strategies and tactics.
It is day break in Nigeria, but some people are yet to wash their faces to see a reincarnation of the Biblical veteran, King David, in our home boy, from the obscure town of Biu in Borno State. Therefore when the United Nations and individual world leaders stand in loud ovation for Nigeria, President Buhari and Buratai, it is because they are faster to wake at dawn than the rest of us.
. Tallen is a poet and public relations manager, writing from Jos.