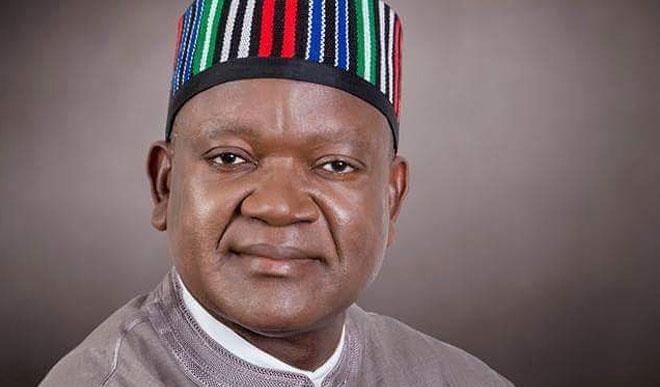 Governor Samuel Ortom of Benue State has again rejected the suggestion that the state creates Cattle Colony or Grazing Routes for herdsmen.
Ortom said the suggestions were not acceptable to Benue State people.
Ortom stated this on Thursday in Makurdi in a service to mark the mass burial of the victims of the herdsmen invasion.
He had stated this position on Wednesday at a stakeholders meeting attended by the Inspector General of Police, Ibrahim Idris.
On Thursday, he said since the state did not even have adequate land for farmers, it did not have the space to give herdsmen for grazing.
He insisted on ranching, saying: "It is the best way to go and it is in conformity with global best practices."
Ortom said if the recent killings by herdsmen were meant to intimidate the state government to repeal the law, the herdsmen had failed woefully.
He also blamed the killings of Benue State indigenes on the silence of the Federal Government and others responsible for the security of lives and property, an accusation he also made on Wednesday.
Ortom lamented that if the Federal Government had acted on the reports he gave it concerning the threats of attacks by the Miyetti Allah Kautal Hore, the killings would have been averted.
He urged the Federal Government to arrest the leadership of the Miyetti Allah Kautal Hore because they had severally made inciting statements against the state.
He, therefore, stated that the recent killings were a pointer to the fact that they had threatened and executed their devilish threats.
He condoled with the families of the slain victims and those that were injured as well as those that lost their property.
Also, the CAN Chairman, Rev. Akpen Leva, urged Benue State citizens to unite irrespective of tribe, political and religious differences in order to tackle their enemies.
Leva described the attack as a "genocide" that was targeted at exterminating the Tiv's.
Former Military Governor of Katsina State, General Lawrence Onoja (rtd), also described the attacks as "a conspiracy against the indigenes" and said it would be resisted.
Also in a funeral eulogy, Senator Joseph Waku said the state has had enough of the senseless killings saying "enough is enough".
One of the survivors, Akaater Azera, said the herdsmen came in the night while they were asleep and started shooting sporadically.
According to him, when his wife came out, the gun totting men shot and killed her on the spot.
Azera added that when he ran out of the house, he was pursued, with machete cuts inflicted on his face and leg.