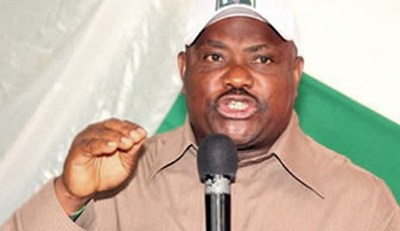 Rivers people will put an end to (Governor Rotimi) Amaechi's corruption and resort to indecent language on April 11. His bare-faced lies and sponsored propaganda will not save him on this historic day.
In about 48 hours, the people of Rivers State will troop out in their numbers to put an end to the worst level of corruption in the history of Rivers State under the leadership of Mr Rotimi Amaechi.
Mr. Amaechi on Thursday during in a town hall meeting of his outgoing political party in the state insulted the person and family of Barrister Nyesom Wike. This uncouth behaviour of the outgoing governor will also come to an end on Saturday, April 11.
Amaechi is a man who believes in corruption and is blinded by the belief that his corruptly acquired wealth can fetch him anything he wants. On March 28, the Rivers people clearly sent a message to him and his co-traitors- that they will have nothing to do with his stolen trillions from the coffers of the Rivers State Government. That message will be re-emphasised on April 11.
Amaechi's resort to verbal violence against Barrister Wike is a clear indication that he is frightened. He will be defeated despite his meeting with Local Government Electoral Officers and his offer to expend over N500million on them. Rivers people have resolved to embrace liberation from the forces of looting and corruption, which Amaechi represents.
Never again will the resources of Rivers State be used to water the deflated political ego of a defeated politician.
If Amaechi thinks that heaping insults on Barrister Wike at every given opportunity will save him from political defeat on Saturday, he should think again.
We shall never lose sight of the issues. The stolen N3 trillion under Amaechi's watch, the promotion of cultism and insecurity, abandoned projects, closure of courts, incapacitated legislature, crippling of state ministries, general collapse of infrastructure and diversion of state funds to the governor's personal political activities.
The outgoing governor should answer to his crimes against Rivers people and their future. That he fears Barrister Wike is no longer in doubt. Whether Amaechi likes it or not, Barrister Wike is on Divine mission to weed his corrupt brand of politics out of Rivers State. The state cannot survive another four years of Amaechi's supervised thievery.
On Saturday, April 11, the people of Rivers State will formally key into their approved NEW Rivers Vision for the development and prosperity of all who reside in the state. The quit notice was served on Amaechi and the APC on March 28. This notice will be executed on April 11.
. The statement was issued on behalf of the Peoples Democratic Party governorship candidate in Rivers State, Barrister Nyesom Wike, by Simeon Nwakaudu, his Special Assistant (Media).