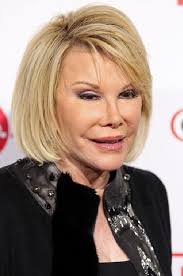 Joan Rivers' funeral holds Sunday
Comedian Joan Rivers, 81, who died on Thursday following complications from surgery is set to be laid to rest on Sunday.
Her funeral, it was learnt, is already gathering momentum as family, friends and her teeming fans across the United States of America, are set to pay her the last respect on Sunday. Joan, who is known for razor-sharp wit, married Edgar Rosenberg in 1965 and three years later gave birth to her only child, Mellissa. In 1965, she made the first of many appearances on 'The Tonight Show', starring this TV legend. Rivers' easy rapport with the host turned into a gig as fill-in host of the show, but the friend soured when Rivers got a late night show of her own. Over the course of her career, Rivers appeared on several TV comedies and voiced this animated character. She was a staple on this TV game show. In 1990, Rivers won a Daytime Emmy. Her red-carpets interviews spiced with catty commentary eventually turned into a full time on E! Network with daughter, Melissa as co-host. She also won this 2009 reality TV competition and was later roasted by the show creator. The star's power house personality and comedic legacy will lives on and will be forever remembered in Hollywood.