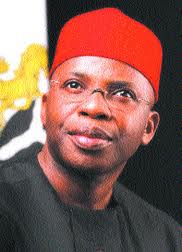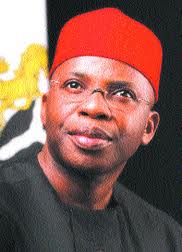 How Ikedi Ohakim stole Imo State blind – EFCC
Two secret documents of the Economic and Financial Crimes Commission have exposed how a former Governor of Imo State, Chief Ikedi Ohakim, allegedly stole billions of naira when he was in power, 247ureports reported today.
The first document, dated August 23, 2010 is titled: "Intelligence Report: Chief Ikedi Godson Ohakim, Governor Imo State."
The second, dated July 2, 2010, comes with the title: "Intelligence Report: conspiracy, diversion of public funds and money laundering against governor Ohakim of Imo State."
The two documents, made available to 247ureports.com through sources close to the anti-graft agency, reveals that Ohakim may have committed financial crimes against the treasury of Imo State that is more damning than was publicly known.
According to the document, in the period leading to the final days of the former governor's stay in office, Ohakim used conspiracy, diversion of public funds and money laundering to liquidate the various accounts of Imo State. On the eve of Ohakim's departure from the state, the local government joint account housed at Bank PHB Account number 082112000037 was drawn down to zero Naira. This was following Ohakim"s coerced collection of N2.8 billion from 307 of the Councilors through his Special Assistant on Local Government and Chieftaincy Affairs.
The document indicted Ohakim on the use of four road construction companies as fronts to siphon monies from Imo State Government. The companies used were: CODUC Construction (owned by his brother-in-law, Mr. Chinedu Chukwuonye), Solid Foundation Construction (owned by his business partner), AMAIFEKE Construction (owned by HRH Eze Okeke), and Zerock Construction Company (owned by his political godfather and former governor of Abia State). Among the many deals with the companies mentioned is the award of a 15 kilometre road to Solid Foundation Construction for a whooping sum of N1.3 billion – equivalent to N87 million per kilometre. The road stretches from Standard Shoe Industry to Amulu Mbieri.
Prior to Ohakim's accession to the seat of governor, Chinedu Chukwuonye lived at 37, Savannah Street, Aguda, Surulere, Lagos and had an "office" along Sanusi Road in Lagos before he relocated to Imo State to start CODUC Construction. The company then did not have materials and equipment for construction but has now transformed into one of the biggest construction companies in Imo State with "State of the art equipments" valued at over N7 billion.
According to the document, the former governor also utilised other companies as fronts. On Friday November 9, 2007, he secretly awarded the supply of IBC transmitters to Pinnacle Communication Nigeria Limited for the sum of N776.32 million. On June 5, 2008, some sub-standard transmitters were installed. The transmitters have not worked till date.
In terms of security of the state, the former governor was reported to have siphoned a minimum of N6 billion. This is as he appropriated N6 billion in the 2009 Appropriation Bill for "the provision of security and purchase of operational vehicles" to police. The N6 billion was spent but not for what it was meant for. It was later discovered that the vehicles were bought by Commercial Banks operating in the state. EFCC Intelligence reports of July 2, 2010 further disclosed that the former governor of Imo State mismanaged public funds to the extent that the indebtedness of the state became staggering as salaries are paid using overdraft facilities obtained from Commercial Banks that in turn charge high interest rates.
As at July 2010, the indebtedness of the state stood at over N70 billion. Persons fingered in the alleged mismanagement of the state funds include Emmanuel Ohakim (Chief of Staff and relation to the former governor), Onuoha Chukwem (Special Assistant), Anselem Okorie (Special Assistant on Millennium Development Goals).The document reveals that monies from Ohakim's fraudulent financial activities were paid into a particular bank account believed to be the personal and confidential account of Ikedi Ohakim. The particulars of the Bank account are J. O. Edeson and Sons – Zenith International Bank PLC, Account number 6010176554.
Acquisition of properties:
Until his appointment as the governor, Ohakim had a 3-bedroom bungalow and a plot land at Prefab Estate. Within 18 months, he acquired mansions in major cities.
Some of these properties include:
A mansion located at Prefab Aladinma Housing Estate behind St. Andrew's Anglican Church. Value: N100 million.
Two storey building along Wetheral Road, Owerri next to N. Nwasco and Sons Electronic Plaza. Ohakim allegedly bought the building using a fictitious name. Value: N120 million.
A palace located at Civic Centre, Imo Concorde Hotel. Value: N800 million.
A mansion for his in-laws at Anara Mbano. Value: N150 million.
A house bought through his Commissioner for Youth and Sports, Prof. Nnamdi Obiaraeri, under Property Development Company, located in Prefab Aladinma Housing Estate, behind Startright Primary School.
A house acquired for his lady friend, Ruth Osieme, at Ikoyi, Lagos
Acquired a mansion at the Parview Estate Ikoyi, Lagos in October 2007. Value: N400 million.
Acquired a mansion at Asokoro, Abuja. Value: Over N400 million.
Property and Investment Abroad:
A house in Kensington, London. Value: 2.1 million pounds.
A house in Atlanta, USA. Value: $2.3 million.
A house in Maryland, USA. Value: $2.2 million.
A five star hotel in South Africa. Value: $27 million.
$10 milion investment in a Chinese manufacturing company in China.