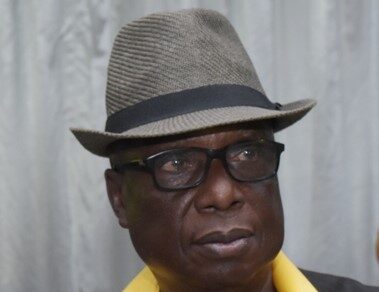 Former Minister of Transport and Member of the Provisional Ruling Council, Rear Admiral Festus Porbeni (read), is one of six distinguished Old Boys of Government College Ughelli to be honoured at the 2019 National Dinner taking place on October 19, 2019 at the International Conference Centre, Abuja. 
Admiral Porbeni will be honoured with the Lifetime Achievement Award of GCUOBA Worldwide. 
Others to be honoured are economist and former Group General Manager of Nigerian National Petroleum Corporation, Dr. Taiwo Idemudia; Medical Doctors Richard Obiuwevbi and Ngozi Allanah; while two others, Chief Daniel Obiomah and Engr. Ima Kagho, will be honoured posthumously.
Explaining the criteria for the awards, the Secretary General of Government College Ughelli Old Boys Association Worldwide, Roy Odoko, said the honour is bestowed on old boys "who are Ancient Mariners, have made immense level of contribution to the growth and well-being of GCUOBA and GCU, attained exemplary leadership status in profession, private and/or public service, and have lived a life of service to society that have impacted positively on the image and reputation GCUOBA and GCU."
Old Boys of the school are called Mariners, while very senior old boys are called Ancient Mariners.
The 2019 National Dinner will have a former Senate President, Senator Ken Nnamani, as Chairman, while the Minister of Education, Mallam Adamu Adamu, and the Minister of the FCT, Alhaji Muhammed Musa Bello, are Special Guests. 
Governor Ifeanyi Okowa of Delta State is the Chief Host. 
The Host is Arc Charles Majoroh, President General Worldwide, Government College Ughelli Old Boys Association and a Past President of Africa Union of Architects. 
The Keynote address will be delivered by Prof. Joy Ogwu, Nigeria's former Foreign Minister. 
She was also a Permanent Representative to the United Nations and former Director General of Nigerian Institute of International Affairs. 
Ogwu will speak on: "Exams Malpractice: Curtailing the epidemic in the National Interest."
A statement signed by Engr Alfred Okoigun, Chairman of the GCUOBA 2019 National Dinner Organising Committee, said: "The National Dinner is a forum for old boys, stakeholders in education at Federal and State levels as well as public-spirited individuals and organisations to appraise the progress that we have made in our efforts to restore the old glory of our Alma Mater and chart the course for its further development in the immediate future. It is also an occasion where we discuss contemporary issues in the management of public schools and social values." 
Okoigun added that old boys of the school had since embarked on restoring the infrastructure of the school that had gone into decay after years of neglect. 
The Dinner is one of the avenues for raising money to fund development projects by GCU Old Boys Association in the school. 
Government College Ughelli was founded in 1945 under the pioneer principal, Villiers BV Powell.