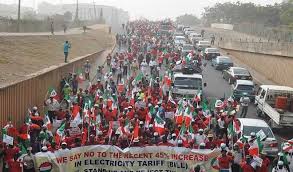 Electricity Tariff: Labour pickets NERC, AEDC
He said: "We cannot accept this tariff increase in this hard economy and the illegal process that gave rise to the increase should be revisited
The Organised Labour, comprising the Nigeria Labour Congress and the Trade Union Congress, an Monday picketed the offices of the Abuja Electricity Distribution Company and the Nigerian Electricity Regulatory Commission.
The News Agency of Nigeria reports that the action was to press home their demand for the reversal of the 45 per cent electricity tariff increase, which took effect on February 1.
The joint action was led by NLC and TUC Presidents, Ayuba Wabba and Bobboi Kaigama.
Wabba said the congress would not accept any tariff increment in view of the current harsh economic situation of the country.
He said: "We cannot accept this tariff increase in this hard economy and the illegal process that gave rise to the increase should be revisited.
"We are totally disappointed in the Minister of Power and we cannot pay for what we do not consume."
Kaigama, in his speech, advised NERC to look beyond incessant increase in electricity tariff and see to it that the government improves service delivery.
Responding, Mustapha Bukar, the NERC General Manger (Marketing), commended labour for the peaceful protest.
Bukar gave an assurance that the complaint would be addressed in the interest of the citizenry.
He said: "We have listened to your complaint and we assure you that we are going to convey your complaint to the commission as appropriate.
"Right now the commission has not been re-constituted and we are aware that any moment from now, the Federal Government will reconstitute the commission.
"So, all these complaints are going to forwarded to them."
NAN reports that the protesters displayed placards which read: We say no to electricity tariff increase; We have come of age and the era we are deprived of what belong to us is over.
Other inscriptions were: Say no to 45 per cent increase in electricity bills; We cannot pay more for darkness; Nigerians say no to estimated billing; NERDC and DISCO: obey court order, we are in democracy; Privatisation is corruption; and We need light not darkness.
NAN.