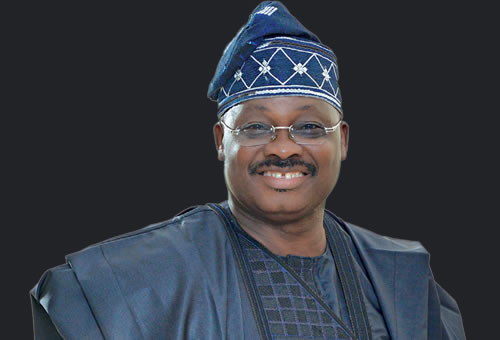 Gunmen numbering three on Tuesday night laid siege to the home of a Senior Special Assistant to Oyo State Governor Abiola Ajimobi on Public Affairs, Deji Aboderin, according to the security officer guiding the residence.
Two billboards of the governor's top aide for the 2019 election into the House of Representatives in Ibadan South East and Ibadan North East, were destroyed by suspected political thugs of recent.
Aboderin therefore alleged that he was a target of suspected assassins who stormed his residence after 10pm.
Addressing journalists at an hideout in Ibadan, Aboderin said he was lucky to escape the three unknown individuals as he had to go out just before dusk to purchase a mobile telephone after one of his telephones developed fault.
According to him, his guard called him when the three men arrived at his residence and tried to gain entry without success.
The governor's aide said he had to take shelter elsewhere as he could not risk a return home in the night.
He said: "After work, I went home because I was tired.
"While at home, one of my mobile telephones developed fault so I decided to go out and buy another one.
"I could not wait till the following day because people would not be able to reach me.
"I am an aspirant of the All Progressives Congress and people would from time to time call me and moreover, my boss might want to pass a message to me.
"After purchasing the new telephone, my cousin called me and said that I should join him at their hotel.
"We sat at the pool side and discussed till around 10pm.
"Because it was a bit late, I decided to stay at the hotel.
"However, while at the pool side, a text message was sent to me by my security man at home but I did not see it immediately.
"It was when he called me that he told me what was happening at home.
"He said the men looked into the premises through the pigeon hole at the gate.
"He is from the north so he did not hear what they were saying but he heard one of them mentioning Hilux van.
"It is my official vehicle and I went out with it.
"He said they were still around and told me not to come home in order not to run into them.
"I told him not to confront them so that he would not be injured."
Asked if he had had been threatened before and if he suspected anyone, Aboderin said that recently his campaign billboard was destroyed, adding that it could be politically motivated.
He said: "Before now, my campaign billboard was destroyed twice in Molete area of Ibadan.
"I have informed the governor, the secretary and chairman of APC in my council area and the police of the latest development.
"This is not a case of armed robbery because they did not force their way in after realizing I was not around.
"It could be politically motivated.
"Why would anyone come to my house in the night and hang around for me?
"There are oppositions to my aspiration to contest for a seat in the House of Representatives in 2019 but I would not like to mention names.
"The aspiration to serve should not be a do-or-die affair. It is not good for democracy."