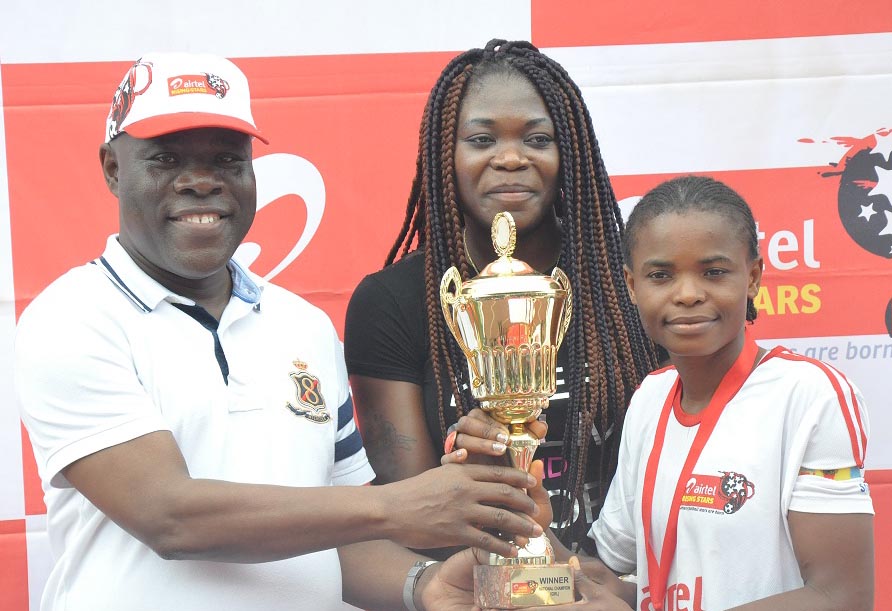 Barely one month after hosting the Airtel Rising Stars National Championship, a major grass root Under-17 soccer tournament for boys and girls, leading telecoms operator, Airtel Nigeria, has fulfilled its pledge of offering $100 for every goal scored during match regulation time at the championship.
The Telco had announced a Goal-for-Education initiative during the National Championship of the tournament, stating that participating teams will receive aggregated monetary value for the number of goals scored during regular match time and they will have liberty to choose charity homes or schools in home states that will benefit from the donation.
In fulfillment of its pledge, Airtel has donated 4,000 exercise books and 6,000 pens to 11 primary schools across the six geopolitical zones.
The primary schools that benefited from the initiative include Irepodun Community Pilot Nursery and Primary School, Ikole, Ekiti State; New Eden Primary School, Bodija-Ojurin, Ibadan, Oyo State; Igbariam Street Primary School 2, Achara Layout, Enugu State; Gwari Road Primary School, Jamel Road, Kaduna State; and Central Primary School, Jere, Kaduna State.
Others are B.S. 1 Primary School, Construction Road, Kaduna State; L.E.A. Primary School, Gwarinpa, Abuja; St. Andrews Primary School 3, Diobu, Port Harcourt Rivers State; State School 2, Churchill Road, Port Harcourt, Rivers State; Army Cantonment Primary School, Ikeja, Lagos State; and Ajeromi Public Primary School, Ajegunle, Apapa, Lagos State.
The Goal-for-Education initiative is aimed at furthering the company's Corporate Social Responsibility spread with particular focus on empowering students with quality education materials.
At the end of the National Championship, a total of 20 goals were scored from 14 matches played by both male and female teams.
Speaking about the initiative, Director of Corporate Communication and CSR, Airtel Nigeria, Emeka Oparah, said it is one of the tie-back benefits of the Airtel Rising Stars Tournament, which focuses on discovering talented football youngsters and giving them opportunities to hone their skills and become renowned stars.
The Airtel Rising Stars U-17 Tourney, in its third year running, is a pan-African initiative of Airtel Africa, designed to provide support for the development of football talents across African markets.
It is aimed at discovering talented students (male and female) of secondary school age and providing them the opportunity to polish their football skills and develop into renowned stars.