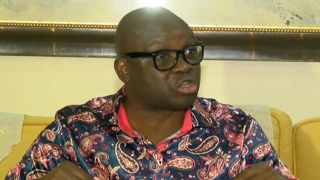 Governor Ayodele Fayose of Ekiti State has described the adultery allegation against Apostle Johnson Suleman of the Omega Fire Ministries Worldwide by Stephanie Otobo as "high level conspiracy meant to destroy the integrity of the pastor and silence his critical and principled voice of truth and dissent in a nation fast becoming a one-party state".
Fayose said: "This was the same way they tried to drag the General Overseer of the Redeemed Christians Church of God (RCCG), Pastor Enoch Adejare Adeboye in the mud. The whole world was aghast at how they insulted and ridiculed the highly-revered RCCG General Overseer. But for the outcry from all over the world, they almost bundled out Pastor Adeboye from his position as RCCG General Overseer and could have even arrested the General Overseer of Winners Chapel, David Oyedepo."
In a statement issued on Wednesday in Ado-Ekiti by his Special Assistant on Public Communications and New Media, Lere Olayinka, the governor declared unequivocally: "I stand by Apostle Suleman and other men of God being directly or indirectly persecuted by the All Progressives Congress cabal.
"Their evil plan is to destroy the Church so as to silence every perceivable strong voice of opposition. And their mode of operation is to take on every vocal, principled, and popular man of God one after the other.
"Should it not interest Nigerians and the international community that up till today, none of those herdsmen that killed thousands of Nigerians in Benue, Enugu, Delta, Ogun, Plateau and Kaduna States have been arrested? Even those arrested in connection with the murder n Abuja-based female pastor, Eunice Elisha have been released."
Governor Fayose wondered why all the adultery allegations and blackmail against Apostle Suleman surfaced only after he spoke out against the reckless and indiscriminate killing of Christians in Southern Kaduna and his subsequent encounter with the Department of State Services.
He said: "This, no doubt, is a continuation of the desperate but despicable and condemnable attempts to destroy opposition and the voices of reason in this country so as to subjugate every decent Nigerian and turn the country into a banana republic.
"After politically subjugating many Nigerians, including a section of the Judiciary that refused to do their bidding; they have now turned on men of God, this is condemnable."
Governor Fayose charged the Christian Association of Nigeria and other Christian bodies not to stay aloof but to stand up resolutely and speak out vociferously against what he called "orchestrated attempt to destroy the Church and respected Church leaders in Nigeria".
He berated those behind the travails of Apostle Suleman as confirmed polygamists, serial adulterers and others whose holier-than-thou attitude was sheer hypocrisy.
He said: "Anyone who has a case against any man of God should swear an oath, proceed to the law court and face the rigours, rather than engage in media trial and character assassination, which have become the hallmark of this administration."
Governor Fayose wondered why the perpetrators of the wicked scheme against Apostle Suleman were not relenting even after the father of the woman making the wild allegations had punctured her loathsome and outrageous claims.
He said: "The family of Stephanie Otobo has disclaimed her and her claims. Rather than own up and recant, those paying for the entire drama are making her to keep changing and modifying her claims, with they all still collapsed like a pack of cards. All other efforts to enlist other blackmailers against this man of God have likewise collapsed irretrievably.
"I therefore make bold to say that I stand by Apostle Suleman. I also call on all those who believe in me to do likewise and carry the message abroad. To me, this plot against Apostle Suleman is madness carried too far.
"One wonders why this same resources and vigour with which Apostle Suleman is being blackmailed have not been deployed into confronting those murderous herdsmen that are slaughtering Nigerians like animals across the country."
Copyright The Eagle Online.
Permission to use quotations from this article is granted subject to appropriate credit being given to www.theeagleonline.com.ng as the source.
Follow @DEagleOnline