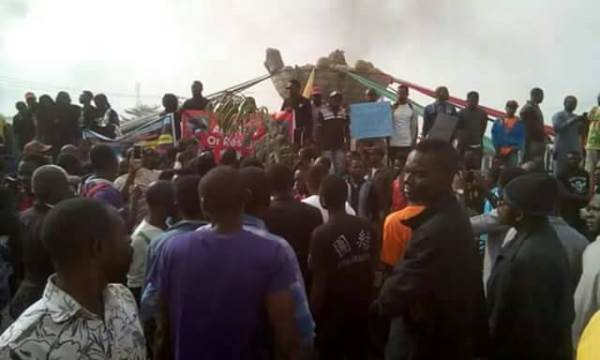 Protesting residents booed and stoned Governor Samuel Ortom of Benue State as government drafted troops to quell a massive protest and to prevent mayhem at Wukurum.
The governor had gone to placate the restive youths where the protest was taking place on Wednesday.
Reports said soldiers from 72 Battalion, North Bank engaged the protesting youths and some two protesters have been wounded.
Residents early on Wednesday trooped out in their thousands to protest against the January 2 herdsmen's attack on farmers in which 20 people were killed.
The protesters are calling on the Presidency to bring the culprits to book.
The protesters carried placards with inscriptions such as: "Presidential Intervention needed", "Why value cows to Humans", and "Stop this incessant blood bath."
Some of them chanted: "We will not vote for the present administration again both the State and Federal level if this crises don't stop."
The protests involved mostly youths who barricaded major roads leading in and out of Makurdi, the state capital.
The youth have vowed not to leave the streets until the presidency spoke on the killings.
They were also asking government to intervene in the series of other attacks on some rural communities by armed herdsmen.