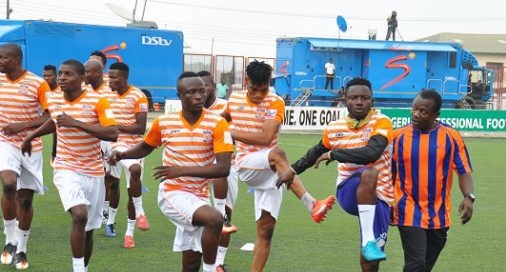 Football matches involving Rivers United and Enugu Rangers are never dull affairs.
The first three meetings involving the sides produced 10 goals, intrigues and drama to be talked about for many years to come.
They meet again on Sunday (today), for the fourth time ever, in Port Harcourt in one of the stand out fixtures of match day 10 of the Nigeria Professional Football League.
The coaches of the two clubs (Stanley Eguma of Rivers United and Imama Amapakbo of Rangers), while fulfilling their responsibilities in the media this week, predictably spoke in glowing terms about each other and their respective troops.
Amapakbo said: "It will certainly be an exciting game and will act as a good prelude to both clubs' respective Caf Champions League matches (next weekend).
"We know that Rivers United is a team that has done well for itself and they have some wonderful individual players that are capable of hurting you if you don't concentrate all through the game.
"We also have players who are capable of giving them worries.
"The game will be worth the money of the paying public as it will be a very entertaining game."
Amapakabo's sentiments about Rangers' arsenal is not an idle boast as he still possesses some of the best footballers in the division.
Daniel Etor, Fortune Omoniwari, Ugwu Uwadiegwu and Charles Henlong are four new arrivals who reek of unadulterated quality while "old head", Bobby Clement, continues to lead by example at the tip of the spear.
Playmaker, Obinna Nwobodo, has yet to hit the heights of last season but class is permanent!
Stalwarts like Aguda Godwin Wanbe, Tope Olusesi, Chiamaka Madu and Pape Ousmane are other individuals on the Rangers side of the divide that will send a shiver or two down the spines of many a United supporter.
Eguma, the Rivers United technical manager, is however not exactly starved of extravagantly talented personnel.
Names like Bernard Ovoke and Guy Kuemian are now regularly invoked reverently by many a supporter in Port Harcourt and other parts of Rivers State following fearsome displays in the past year.
Others like Esosa Igbinoba, Festus Austine, Olalekan Gabriel, Nzube Anaezemba, Gabriel Wassa and Christian Weli easily roll off the tongue and seemingly act as a pointer to a mouth-watering contest today.
Eguma is however quick to acknowledge that today's contest will be far from straightforward.
Eguma said: "Matches involving Rangers and Rivers United are always crackers and this one will be no different.
"Rangers have a very big pedigree and they are the champions and we will not take them for granted.
"I see this game as a derby as they are our rivals.
"I expect a very tight game."
The form of the two side is anything but impressive with United yet to win in their last six NPFL matches.
Rangers have not fared much better either, winning just two of their last eight games in all competitions.
However, form seems to go out of the window whenever these two sides meet as exemplified by performances of both sets of gladiators in their past meetings, which have never failed to provide goals, many of which are right out of the top drawer.
Today, these two big hitters, Nigeria's representatives in the glamorous CAF Champions League, will be hugely confident of finally turning the corner in emphatic fashion.
A potentially cracking contest awaits at 4pm!