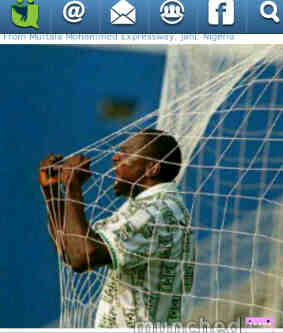 The Super Eagles camp opened on Sunday at the Bolton White Apartment in Abuja, with the passage of former national team striker, Rashidi Yekini, dominating nearly every discourse in camp.
Yekini, who is Super Eagles all-time highest goalscorer, died on Friday and was buried on Saturday in his ancestral home of Iraa, in Kwara state.
National team Head Coach, Stephen Keshi, said he has not recovered from the news of the death of one of the most relaible players in the nationbal team, while he was captain.
"Yekini, to some of us, was a phenomenon, a dedicated patriot and a team player. Many people will not understand because they never had the opportunity of interracting with him like most of us did. I'm still struggling to come to terms with his death."
Eagles keeper's trainer and former national team's number one goalie, Ike Shorunmu, who played alongside Yekini at FC Zurich in Switzerland, described Yekini as one of the most humble and generous person he ever met in his career.
Shorunmu said: "At FC Zurich, he was always making people laugh with jokes and when he offends you, he's always the first to come back to tell you sorry. I recall an incident in Zurich when we had a disagreement over an off ball situation in training that got me angry. After one week, he was still the first person to walk up to me to say, 'are you still unhappy with me'?"
Shorunmu said Yekini's last days were very unfortunate but gave God thanks because he lived quite well, while alive.
Eagles defender and Sunshine skipper, Godfrey Oboabona, was simply lost for words over the death of the legend and hopes those concerned will take care of the family left behind by the late national team icon.
Izu Azuka, Papa Idris and Barnabas Imenger all wished the ex-star's family the fortitude to bear the great loss, as most of them were very young when Yekini reigned supreme in the national team striking role.