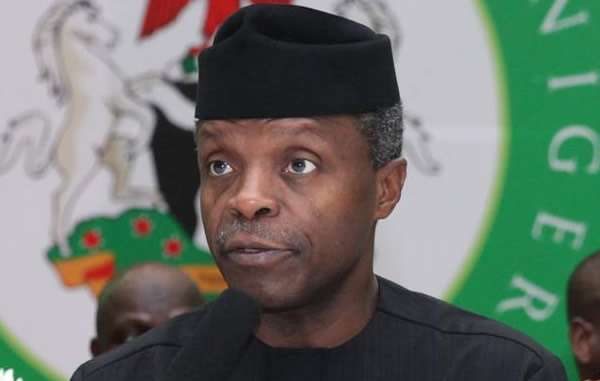 The Network on Police Reform in Nigeria has written a protest letter to the Vice President, Prof. Yemi Osinbajo, over the continued detention of over 100 women that engaged in protest over the alleged continued detention of the leader of the Indigenous People of Biafra, Nnamdi Kanu.
The women were arrested last week in Owerri, the Imo State capital, by a detachment of policemen.
They have since been in detention.
The letter by NOPRIN to Osinbajo reads:
Letter to VP to order release of detained women
The Vice President
Federal Republic of Nigeria
The Presidency
Aso Rock Villa
Abuja
Your Excellency
NOPRIN REQUESTS YOUR INTERVENTION TO ENSURE THE RELEASE OF WOMEN ARRESTED, ARRAIGNED AND HELD IN PRISON CUSTODY FOR EXPRESSING THEIR RIGHT TO FREEDOM OF EXPRESSION
Network on Police Reform in Nigeria writes to express serious concerns about the increasing repression of basic freedoms of Nigerian citizens by security agencies in Nigeria.
Just few days after the Nigeria Police exposed  the country to shame by arresting a Premium Times reporter, detaining him in an attempt to force him to  disclose the source of a story he wrote and eventually charged him on  frivolous allegations for refusing to compromise internationally recognized journalism principles and privileges of not disclosing source of information , we are confronted with yet another episode of arresting unarmed, harmless  women for embarking on a peaceful protest demanding the release of their leader.
The arrest, last Friday by police in Imo State, of over  hundred women protesting  the continued detention of Nnamdi Kanu, the leader of Indigenous People of Biafra (IPOB) for allegedly conducting an unlawful assembly and charging them to court leading to their being remanded in prison does great damage to the democratic credentials of the government.
According to reports, some of the women, mostly of middle age and from the Southeast states,  marched peacefully through the streets of Owerri and did not engage in violence.
The women were  reported to be  chanting, dancing  and displaying  different placards calling on  the Federal Government to release Kanu.
These actions  do  not amount to conducting an illegal assembly and holding an unlawful protest as the Imo State Police Command claimed and on the basis of which they arrested, detained and charged the women.
NOPRIN calls on the Vice President to order the immediate and unconditional release of the women and to order an end to further police harassment of citizens and abridgement of citizens rights.