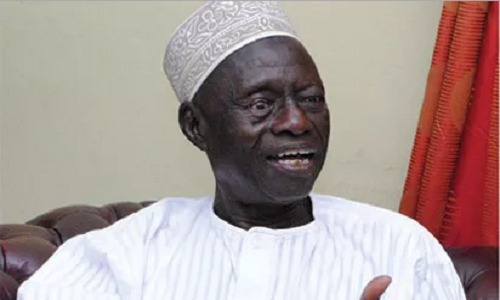 The National Leader of the All Progressives Congress, Asiwaju Bola Ahmed Tinubu, has said with the demise of former Finance Minister, Mallam Adamu Ciroma, the country has lost an illustrious leader, consummate politician and accomplished public servant.
Tinubu said this in reaction to the death of the former Peoples Democratic Party leader on Thursday in Abuja.
Asiwaju Tinubu said: "Mallam Adamu Ciroma was one of the illustrious leaders this country has produced. He was a politician of note. You cannot but recall his days in the Second Republic National Party of Nigeria and in the Peoples Democratic Party where he was one of the party's founding fathers.
"He also made name as an experienced technocrat and skilful public servant particularly as Central Bank of Nigeria (CBN) governor and in later years as Minister of Finance.
"He was a fine man who played politics with a commitment to serve the people and change society. This did not come as a surprise given his background honed by sound education at the popular Barewa College and University and his nationalistic worldview.
"My condolences go the Ciroma family and the people of government of Yobe State. May his soul rest in peace."