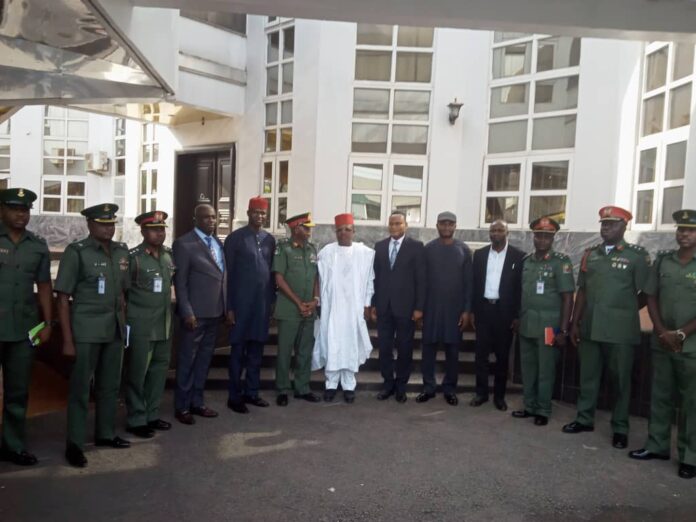 The South East has advanced plans to form its joint regional security outfit to further complement the fight against insecurity in the zone.
The disclosure was made on Wednesday by the South East Governor's Forum Chairman and Governor of Ebonyi State, Engr. David Umahi.
Umahi spoke when he received the new General Officer Commanding, 82 Division, Nigeria Army, Major General Lasisi Adegboye, at the Government House, Abakaliki.
The Governor, who lent his support for State Police, noted that the initiative was only an advancement from the community policing initiative already being advocated by the Inspector-General of Police, Mohammed Adamu.
Umahi commended the Chief of Army Staff, Lieutenant General Tukur Buratai, for his prompt responses to security challenges affecting the South East and expressed optimism that the new GOC would employ his wealth of experience to cement the peace initiatives between Ebonyi State and its neighbouring Cross River and other States.
While commending Ebonyi youths and their Cross River counterparts for their joint peace efforts, Umahi maintained that the prevalent peace in the State emanated from mutual understanding and cooperation between the Government and Security Chiefs operating in the State.
He noted that the South East had written the Federal Government on the formation of a regional vigilante outfit for the zone.
Umahi explained: "Every region has their own peculiarities and we had formed our own joint security taskforce, and we have written to the Federal Government and we are putting things together because we had a joint meeting with all the Service Chiefs and the then GOC.
"So, we discussed and agreed on what we need to do to continue to give safety to our people in the South East.
"No one will say that he will not be part of joint security because when people are kidnapped for example in Anambra State, they could be found in Ebonyi.
"So, we need that synergy to work together to give protection to everybody.
"And here in Ebonyi we among the first in the federation to start our law on internal security and that is the Neighbourhood Watch and they have fantastically done very well."
Adegboye, while addressing the Governor, said he was in the State on a familiarisation visit.
He further solicited the cooperation of the Governors and people of the zone, pledging to deploy his wealth of experience, and leveraging on his familiarity with the zone's terrain to deliver impactful services.
Adegboye took over command of 82 Division on September 11, 2019 on acting capacity, and was confirmed substantive GOC on December 19, 2019.