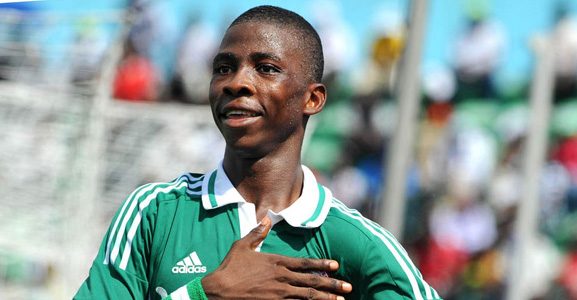 The FIFA medical committee at the Under-17 World Cup UAE 2013 headed by Dr. Yacine Zerguine has given Golden Eaglets' duo of Kelechi Iheanacho and Saliu Ali-Baba a clean bill of health after a recent dope control test.
In a memo addressed to the Team's Physician, Dr. Ayodeji Olarinoye, FIFA noted: "We have the pleasure to inform you
that the analysis of the samples provided by the players Iheanacho Kelechi, Saliu Baba during the doping controls performed after the above-mentioned match (Nigeria Vs. Iraq) did not show the presence of a prohibited substance."
Altogether, five players – Jide Idowu, Chidiebere Nwakali, Uzoho Odinaka (twice), Iheanacho and Ali-Baba were subjected to the mandatory test in the preliminary round, with an express commendation by FIFA.
The letter reads further: "We thank you for your valuable support in the fight against drug abuse in football."
Meanwhile, Habib Makanjuola and Chigozie Obasi were picked for the dope control test after the 4-1 win over Iran.