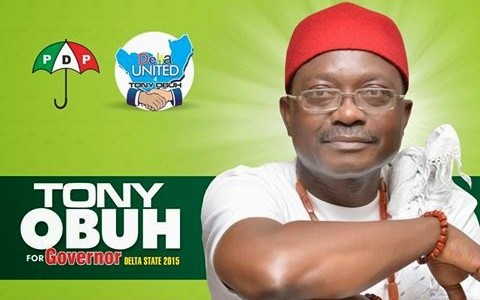 Delta Governorship tussle and argument for Tony Obuh candidacy, by Fred Latimore Oghenesivbe
It is quite unfortunate that it is only in this part of the world that people raise issues that have no constitutional backing. Constructive criticisms are essentially based on issues of law, constitution and to some extent morality
It is a political truism that the sudden entry of Sir Tony Chuks  Obuh, a retired permanent secretary in the Delta State Civil Service is causing political panic among other aspirants and their supporters because of the momentum that he has gathered within a short period of time of indicating his interest to govern the state from May 29, next year if elected.
His political popularity has been attributed to several factors. Some political actors believe that Sir Obuh is being sponsored by incumbent Governor, Dr. Emmanuel Iweta Uduaghan while others believe that his ambition is tied to certain political power blocs in Delta State who are known in the past to have played key roles for the electioneering victories of Governor James Ibori and the incumbent governor.
The Obuh controversy has many dimensions even as other aspirations and their supporters are of the opinion that he has no political experience and therefore will not be able to effectively balance power equation in the state to the satisfaction of Deltans and party faithful in the the three senatorial districts.
Others say Sir Obuh is not a known face in the robust Delta politics and therefore needed to queue behind others for a reasonable period of time so as to be fully integrated into PDP and state politics before gunning for the party's gubernatorial ticket. The argument so far advanced by his political detractors is endless and the social media is loaded with series of abusive posts rejecting the Obuh candidacy.
It is quite unfortunate that it is only in this part of the world that people raise issues that have no constitutional backing. Constructive criticisms are essentially based on issues of law, constitution and to some extent morality. The Obuh's political controversy is baseless on constitutional, legal and moral grounds.
First, he is a Nigerian, a registered member of the PDP and a registered voter. He served as Permanent Secretary in the State civil service and a substantial part of his last years in office was devoted to ensure that the political machinery of state was running smoothly as Permanent Secretary Government House Protocol.
This sensitive position places Obuh at an advantageous position in the political system because he actually handled the government protocol matters including political action plans and ensuring that senior party faithful are properly attended to during state functions and other political activities in the state. Simply put, he has been a big time silent political operator in the state.
It is also true that all PDP party stalwarts, elders and leaders had close contact and relationship with Obuh by virtue of his position as the super administrator of government house protocol.
Big names like Senator Ifeanyi Okowa, Chief (Mrs) Ngozi Olujeme, Rot. Hon. Victor Uche, Chief Ovie Omo-Agege and the other governorship aspirants have in one way or the other worked closely with Obuh on issues relating to PDP and state affairs. No key player in Delta State politics today that do not know the man – Tony Chuks Obuh.
He has been actively involved in high level political activities in Delta State from the days of Chief James Ibori's tenure till he retired recently. He is well known to major stakeholders in PDP and Delta politics despite the fact that he did not feature in political podiums to canvass votes for other aspirants in the past.
But he has been a key silent player in the internal politics of Delta State and for this reason his candidacy is constitutionally, legally and morally valid.
Constitutionally, nothing stops Obuh like any other Deltan from indicating his interest to serve the good people of Delta State at whatever level. He is academically qualified haven bagged University degree and master degree from premier and top class Universities in Nigeria.
Obuh headed several state agencies and parastatals in defunct Bendel State and in Delta State. He has been a key government policy formulator for the state government and played active roles in the blueprint document of DELTA BEYOND OIL.
He has held several key positions in different ministries before his elevation to the office of Permanent Secretary, Government House protocol. Thus, he is well grounded in both political activities and mobilization. He has been well groomed by his political masters and bosses in the system and as such has the political skills to effectively manage men and materials for the development of Delta State.
Legally, he has no criminal records to stop him from aspiration to the office of Governor of Delta State. He is a personality without complicated background. Easy going, intelligent and well focused. Obuh's pedigree has been testified to by key PDP chieftains in Delta State.
The State party Chairman, Chief (Barrister) Peter Nwaoboshi described him as an intelligent gentleman who served Delta State without blemish. Chief Ighoyota Amori said Obuh was a super permanent secretary whose pedigree cannot be faulted by the devil. Chief Ayiri Emami (the Convener of Delta United for Tony Obuh) said he had to compel Obuh to join the gubernatorial race because of his unique personality, foresight and visionary potentials.
The secretary to Delta State government, Comrade Ovuzorie Macaulay recently described him as a perfect gentleman who served the state diligently. Chief (Mrs) Faith Majemite, a founding member of PDP once told newsmen during Obuh's LGA consultation tour that the gubernatorial aspirant is highly detribalized and have worked closely with party leaders and elders for several years without blemish and such he is qualified to govern Delta State now that power is shifting to Delta North Senatorial district.
It is clear that Obuh has clean service record and therefore ably qualified to aspire for any political office in the state.
Morally, Obuh is well known to be a reserved person whose character and pedigree speaks volume. He is not a waster of financial resources. Obuh is a simple man, not flamboyant and never arrogant. His humility has attracted thousands of stakeholders, followers and several political pressure groups to his political camp since he indicated interest to govern the state if elected in 2015.
The Obuh that I know is a man who is always smiling and ever willing to do those things within his capacity to bring about positive results for the good of all. It is therefore absolutely uncalled for, for some people and groups to waste their financial resources to buy pages of newspapers to blackmail this patriotic Deltan who has put in 32 years of his life on earth serving the good people of Delta State.
It is politically a miscalculation for anybody to think that he will be talked-down by paid political propagandists at this time when he has completed a robust consultation visits to the twenty five PDP LGA executives.
What is essentially necessary now is for those who are blackmailing Sir Obuh to focus their energies and their money in projecting their own candidates because PDP party primaries comes up in November this year. He is ready to face other candidates at the political battle field where the party delegates will choose their gubernatorial candidate on November 29.
Whoever takes the ticket goes to the general poll to slug it out with other parties' gubernatorial candidate and of course the winner becomes the fourth democratically elected governor of Delta State and shall of a necessity take over the mantle of leadership from incumbent Governor Uduaghan on May 29, 2015.
This is the way to go and not to intimidate a man who will never yield to any form of intimidation. Obuh will run for the party's ticket just like any other aspirant and November 29 will be the D-day at the party level.  Till then, all aspirants are to remain in the political battle field to test their acceptance and political pedigree.
Dr. Fred Latimore Oghenesivbe, is a full member of the Nigerian Institute of International Affairs (NIIA) and also a core member of the Political Communication and Human Rights Committee of American Political Science Association (APSA) currently Chaired at the New York University, USA.