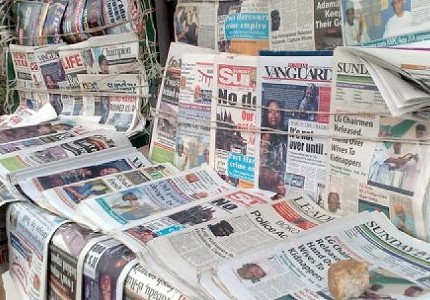 A 35-year-old father of three, Ejike Nwuzor, was at the weekend
subjected to public disgrace in Mkpuma community, Izzi Local
Government Area of Ebonyi State for allegedly defiling a 12-year-old
girl (name withheld).
Nwuzor was caught by a farmer, Oliver Nwegede. Nwegede claimed he saw
Ejike harassing the girl sexually.
The farmer said the screaming of the victim attracted his attention
while in the farm.
He said: "The girl was struggling with Nwuzor and was crying and
begging him to leave her. So instead of coming out immediately to
rescue her, I hide very well in the bush.
"As I was watching the whole scene, the girl was helpless and was
subsequently overpowered by Nwuzor which forced me out of the bush and
before I could come out another man who might have heard the cry of
the girl, stormed the scene. Everything became naked before everyone.
"The man and I nabbed Nwuzor and made sure he did not escape. We got
clothes from some women in the farm to cover the victim's nakedness
because all her clothes were torn by the suspect during the struggle.
"We immediately reported the matter to the villagers, including the youth.''
The youth paraded Nwuzor round the community and forced him to dance
different disgraceful songs. The parade lasted four hours.
He was later tortured by the elders who demanded that he offset the
medical bill of treating the victim.
The elders also warned that he would be ostracised if he committed
such act again.
While narrating her ordeal, the victim said she was returning from an
errand and got to a very lonely place when she heard a whisper.
She said: "I suddenly saw Ejike Nwuzor Okemini after the whisper and
he dragged me inside a corner of a bush and asked me to pull off my
clothes which I refused.
"Because I did not agree, he started tearing my clothes and pounced on
me. A man who saw us ran to the scene and nabbed him. Another man
joined and arrested him and got clothes from a woman for me.''
The victim sustained injuries in the struggle.
Nwuzor was later handed over to the police.
When contacted, the state Police Public Relations Officer (PPRO), DSP
Chris Anyanwu, said he was yet to receive official report on the
matter from Izzi Police Division where the incident occurred.
Meanwhile, one Alex Nwabu, who raped a widow, Ogodo Egede, to death in
Egwudinagu village, Amachi community in Abakaliki Local Government
Area of the state slumped at a Magistrate's Court where he was
arraigned.
This, however, did not affect court proceedings.
The court ordered that he should be remanded in Abakaliki Federal
Prisons and adjourned the case till October 5 for report of
compliance.
The accused was on the ground for two hours before he regained
consciousness. He later requested for water which was given to him.