Residents of Iju-Ishaga, Ogba, Agege and Ifako/Ijaiye areas on Saturday resorted to trekking due to partial road restrictions resulting into heavy traffic over the ongoing Ifako-Ijaiye Federal Constituency by-election in Lagos State.
This runs contrary to the pronouncement by the Lagos State Government on Friday that there would be no restriction of movement.
The Secretary to the State Government, Tunji Bello, said in a statement on Friday that there would be no restriction of movement for the election.
He equally repeated the order on Traffic Radio on Saturday when it became apparent that the security agencies involved in the monitoring of the election were flouting the instruction.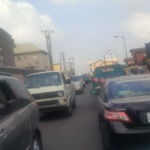 Following this development, there was heavy traffic along Agege/Ogba and Fagba axes.
Shops were also closed and security men with patrol vans were seen in the areas.
Some of the residents who spoke to the News Agency of Nigeria lamented low publicity as they were not aware of the by-election.
Seye Adeoti, a civil servant, said that due to heavy traffic, he alighted from a bus and started trekking from Iyana-Orile in Agege to Ogba.
Biola Abdul-Lateef, a trader at Fagba, said she was not aware of the by-election.
Abdul-Lateef said it was the heavy traffic and the mass trekking of people on the road that suggested something was happening in the area.
She said she was not allowed to open her shop because of the election as a polling unit was situated close to her shop.
Also, Celestine Okhiro, an apprentice, said the restriction had made him trek from Pen Cinema in Agege to Iju-Ishaga.
Despite the restriction of movement, turnout for the election was low.
Most polling units visited by The Eagle Online reporters around Ogba had no one voting.
The members of the National Youth Service Corps drafted for the election in most polling stations visited were taking naps.
Six political parties are contesting in the poll.
They are Action Alliance, Alliance for Democracy, African Democratic Party, All Progressives Congress, Peoples Democratic Party and Social Democratic Party.
However, the candidates of the AA and AD had on Thursday withdrawn their candidacy and declared support for the candidate of the APC.
The by-election resulted from the death of Elijah Adewale, who represented the constituency in the House of Representatives.
Adewale died in Abuja on July 20.