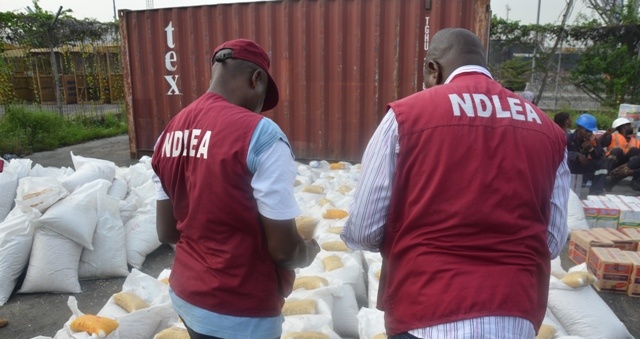 Hard drugs weighing 26.2kg found in foot wears at Lagos airport
Anti-narcotic officials swiftly arrested an electrician in connection with the illegal shipment
Officers of the National Drug Law Enforcement Agency have prevented the illicit exportation of 26.2kg of ephedrine to Tanzania, East Africa.
The discovery of the ephedrine hidden inside female foot wears was detected at the Murtala Mohammed International Airport, Lagos during search operations.
Anti-narcotic officials swiftly arrested an electrician in connection with the illegal shipment.
Two other suspected drug traffickers, one exporting 305 grammes of cocaine to Cambodia and another importing 1.370kg of cocaine from Sierra Leone, were also apprehended as the Agency seized 27.875kg of drugs comprising 26.2kg ephedrine and 1.675kg of cocaine.
According to the NDLEA commander at the Lagos airport, Ahmadu Garba, the suspects will soon be charged to court.
Garba said: "The names of the suspected drug traffickers are Ogujiuba Zacchaeus, 48-year-old electrician caught exporting 26.6kg of ephedrine to Tanzania; Uchegbu Emeka, 33-year-old textile merchant smuggling 305 grammes of cocaine to Cambodia; and Okafor Emeka, 28-year-old automobile parts dealer caught importing 1.370kg of cocaine from Sierra Leone.
"All the cases are being investigated and the suspects will appear in court soon."
The suspects in their statements have adduced various reasons for smuggling narcotics.
Forty-eight-year-old Abia State-based electrician, Ogujiuba Zacchaeus, said he was introduced into the illicit trade by an old time friend.
He said: "I am married with six children and I reside in Abia where I work as an electrician.
"The ephedrine was carefully hidden inside female shoes and given to me by an old time friend.
"He told me to take the drug to Lagos and handle the shipping arrangements to Tanzania.
"Unfortunately, I was arrested during examination of the consignment after the drug was discovered.
"I regret ever getting involved in drug trafficking."
Uchegbu Emeka, who inserted seven wraps of cocaine into his anus in a bid to evade arrest, blamed his involvement on joblessness.
In his words: "I am a textile merchant, but today I am jobless.
"I lost everything due to economic recession and family problems.
"That was why I agreed to collect the sum of eight hundred thousand naira to smuggle cocaine to Cambodia.
"My intention was to invest the money in legitimate business."
He hails from Anambra State.
Twenty-eight-year-old auto parts dealer, Okafor Emeka, said he needed money to get his own shop and expand his business.
He said: "I am an automobile parts dealer in Lagos, but I have no shop.
"I only wanted to get enough money to rent a shop and invest in my business.
"My love for money made me to ingest 69 wraps of cocaine weighing 1.370kgs in Sierra Leone."
Okafor hails from Enugu State.