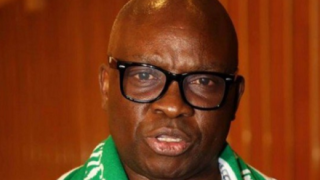 The Governor of Ekiti State, Ayo Fayose, on Wednesday stormed the Federal Ministry of Finance in Abuja to demand the release of the state's N1.1 billion budget support facility for January.
Fayose on arrival demanded to see the Minister of Finance, Kemi Adeosun, over the non-payment of the allocation.
He was however, told Adeosun was attending the weekly Federal Executive Council meeting.
But he did not leave without addressing newsmen on the purpose of the visit.
Fayose said Ekiti was the only state that had not received its January allocation.
The governor said that he received a text message from the Central Bank of Nigeria that the money had been paid only to be informed again that Ekiti State was not included on the list of payment.
He said this was unacceptable as many workers in the state are currently suffering the negative impact of the delay in releasing the fund.
Fayose said: "I believe I should do a follow up today (Wednesday) to meet with the Minister of Finance for an update, but she actually called me on Tuesday that she just got back but she was going to look into it today (Wednesday) and have it resolved as soon as possible.
"You will however appreciate that Ekiti civil servants are restive, having spent money during Christmas and there is no money in January, obviously there will be challenges.
"By the time I got here, the Minister has already gone for the Federal Executive Council meeting, but I met the Special Adviser, who assured me that the matter will be resolved when the minister is back.
"What we are talking about is a part of the monthly allocation and the budget support fund, which is about N1.1 billion that have not been paid.
"I believe this should be done immediately and I want to believe also that it was a mix up and not political.
"But if it is political, they will have a lot of questions to answer why it should be so.
"If they want to fight Fayose, they should fight Fayose, not the civil servants of Ekiti, but I appreciate her promise to resolve the matter."
Copyright The Eagle Online.
Permission to use quotations from this article is granted subject to appropriate credit being given to www.theeagleonline.com.ng as the source.
Follow @DEagleOnline