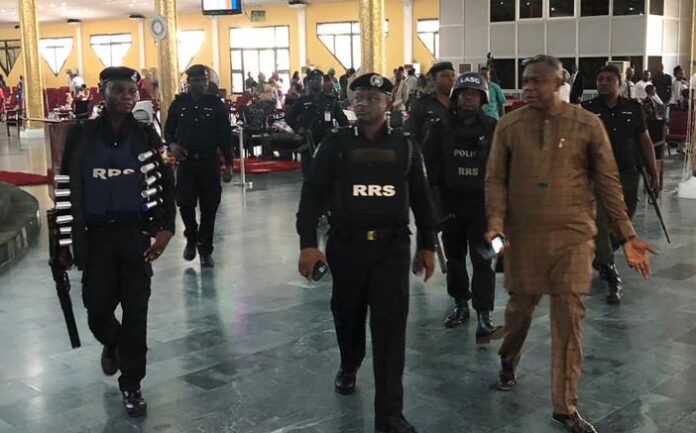 The Commander of the Rapid Response Squad, Ikeja, Lagos State Police Command, Deputy Commissioner of Police Olatunji Disu, has told of how his Officers and Men and journalists from Television Continental were attacked at the Victorious Army International Ministries, located on ACME Road, Ikeja, Lagos State on Sunday while trying to enforce the order of Social Distancing amid the Coronavirus Disease (COVID-19) pandemic.
The Lagos State Government had issued the order that no more than 50 persons should gather in a spot at once as a means of checking the spread of the disease.
The Commander and his men had gone to the church to enforce the directive when they were attacked.
Disu and men visited churches located along Alausa, Agidingbi, ACME Road, Akilo, Ogba, Aguda, Yaya Abatan, Omole, Ojodu, Ogudu, Oregun, Toyin, Ikeja GRA, Allen, Opebi, Mobolaji Bank Anthony Way, Olowopopo, Jobi Fele Way, Alapere, Oba Akran and Obafemi Awolowo Way among others.
Churches that chose to have their worship services and which had more than 50 members in the congregation quietly shut down after discussing with the enforcers and those that had less than 50 members in attendance were not disturbed.
Trouble, however, started when the police team got to Victorious Army International Ministries, pastored by Dr. Joseph Agboli, along Acme Road at about 9am.
The policemen couldn't gain entry because the entrance gate into the church was under lock by their Officials.
When the officials allegedly saw the policemen, they started scampering around to inform other members of the Church of the police presence.
When the entrance gate was eventually opened, some belligerent members of the church, who saw one of the enforcement officers recording the church activities, attacked and seized his two mobile phones: a Samsung S 8Plus and Samsung J4.
The Church members also allegedly attacked TVC reporter, Ivy Kanu, and almost seized her phone.
The TVC cameraman was also attacked as the church officials allegedly tried unsuccessfully to prevent him from recording the church premises.
Disu, in an attempt to de-escalate the crisis, prevailed on the management of the church to discontinue their service and prune down the attendance to reflect the directive of the State Governor, Babajide Sanwo-Olu.