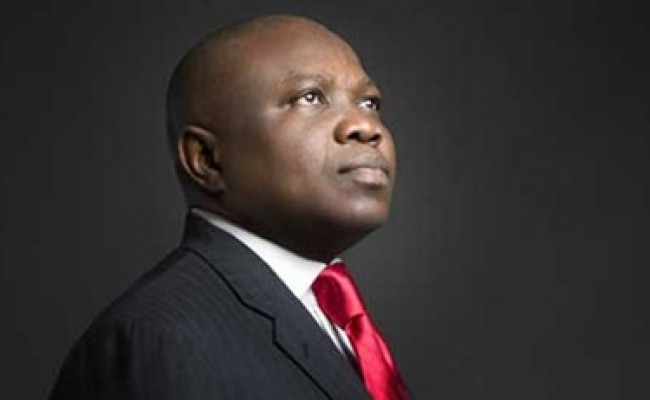 Pen Cinema Bridge: Residents support, commend Ambode, Obasa, Ogundimu, Adejare
Community leaders and residents of Agege community on Friday gathered at the project site of the ongoing construction of the Pen Cinema flyover to express their support for the administration of Governor Akinwunmi Ambode.
They also heaped praises on the Speaker of the Lagos State House of Assembly, Rt. Hon. Mudashiru Obasa; the representative of Agege State Constituency 2 in the state House of Assembly, Hon. Oluyinka Ogundimu; and the newly appointed state Commissioner for Waterfront Infrastructure Development, Dr. Samuel Adejare, for the positive roles they played in bringing the project to fruition.
Addressing the media at Pen Cinema, the leader of the group, Hon. Rasheed Osanyinpeju, described Ambode as a man of his words who always delivers on his promises.
Osanyinpeju said: "We are happy at this project and we're telling the governor that we support him in his desire to ensure even development all over the state."
Osanyinpeju, former Parliamentary Leader in Agege Local Government, praised Obasa, Ogundimu and Adejare for their positive roles in ensuring the Pen Cinema bridge project became a reality.
"Hon. Ogundimu moved the motion for the construction of the project in 2016 and Rt. Hon. Obasa played his part well in ensuring that this project comes to reality. And we can't forget Dr. Adejare's contribution," Osanyinpeju said.
He also expressed confidence in the fulfilment of the promise of the Ambode government to pay compensation to owners of buildings demolished for the construction of the project.
Addressing the media later, the Chairman of Agege Local Government, Hon. Ganiyu Kola Egunjobi, commended the people at the gathering, assuring them of the commitment of the Ambode administration to pay compensation to the owners of the affected buildings.