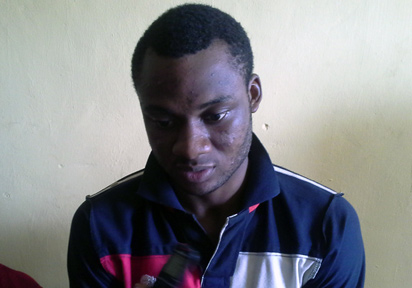 A student of the Redeemer's University, Tolani Ajayi, who killed his father, Charles Ajayi, a Senior Advocate of Nigeria, at the Redemption Camp along Lagos/Ibadan Expressway last week, has said that he was provoked by his father.
Ajayi, a 21-year-old 300-level student in the Department of History and International Relations, Redeemer's University, RCCG Camp, Ogun State, spoke with Vanguard on Tuesday at the Police Headquarters, Eleweran, Abeokuta, where he is being detained over the crime.
Vanguard gathered that the young man was into drugs as he has been caught twice by his school authorities. Actually, a panel is said to have been set up to interrogate him on drug-related matters before he committed the murder.
The accused, who was reluctant to speak at first, referring to his official statement with the Police on the crime, later opened up, saying he regretted the action.
Apologises to mum
He said he had sent some people to his mother over the matter to beg her for forgiveness and that he had sought forgiveness from God.
He said: "I have sent some people to talk to her that I am sorry. I have talked to my sister. My mother is still grieving, I want to give her time. It may be spiritual, so I have asked God for forgiveness."
Influence of drugs
When asked whether he was under the influence of drugs, Tolani, who confessed that he had been into drugs, said: "I tried those drugs myself. I might have heard it from my friends but I tried them myself."
In his explanation, Tolani, who confessed that he actually used a kitchen knife and cutlass to attack his father during an argument between them, denied being under the influence of the drugs then, saying the action was not planned.
He said: "The incident happened around 1am when the church community would have been sleeping. It was anger that led me into this. My father just bit me repeatedly with his teeth.
"There was an argument between us and I stood up to him. He beat me with a stick and bit me. Just the two of us were at home. My mother was in Abuja."
When asked whether his parents were living together as husband and wife, Ajayi said: "We live in Abuja, I school at Redemption University at the camp. My father came for a programme and we were on break, so I went to meet him where he lodged. We were meant to go back to Abuja together, then the incident happened and I am here."
How it happened
On how it happened, he said his father was the one that first went to the kitchen during the argument and took a wooden spoon to beat him repeatedly.
He said: "My father went to the kitchen and got a stick (wooden spoon) and used it on me repeatedly and I tried to defend myself, then he bit me on my shoulder and I got angry. I used normal small kitchen knife, after I used cutlass to attack him. I regret the action."
Reacting to whether he needs the help of Nigerians, he said: "There is no way Nigerians can help me. I am going to face my judgment. I am meant to pay for what I have done. It is not as if I am ready but it is inevitable. It is something that is going to happen. I am just waiting for it."
He, however, said he attended the church activities regularly while in school, saying: "I didn't miss church throughout this semester. I never missed church for once. It is not about the church."
Vanguard.