Lagos State Governor, Babajide Sanwo-Olu on Monday called on all residents to take up the responsibility and collaborate with government to ensure a sustainable solution to the menace of plastic pollution to make the state safe, cleaner and healthy.
The Governor who spoke at the Year 2023 World Environment Day celebrations with the theme: "Solutions to Plastic Pollution" held at Adeyemi Bero, Secretariat, Alausa, Ikeja, added that if residents sustain the collaboration with the state, then the target of protecting the environment which is a common heritage would be achieved.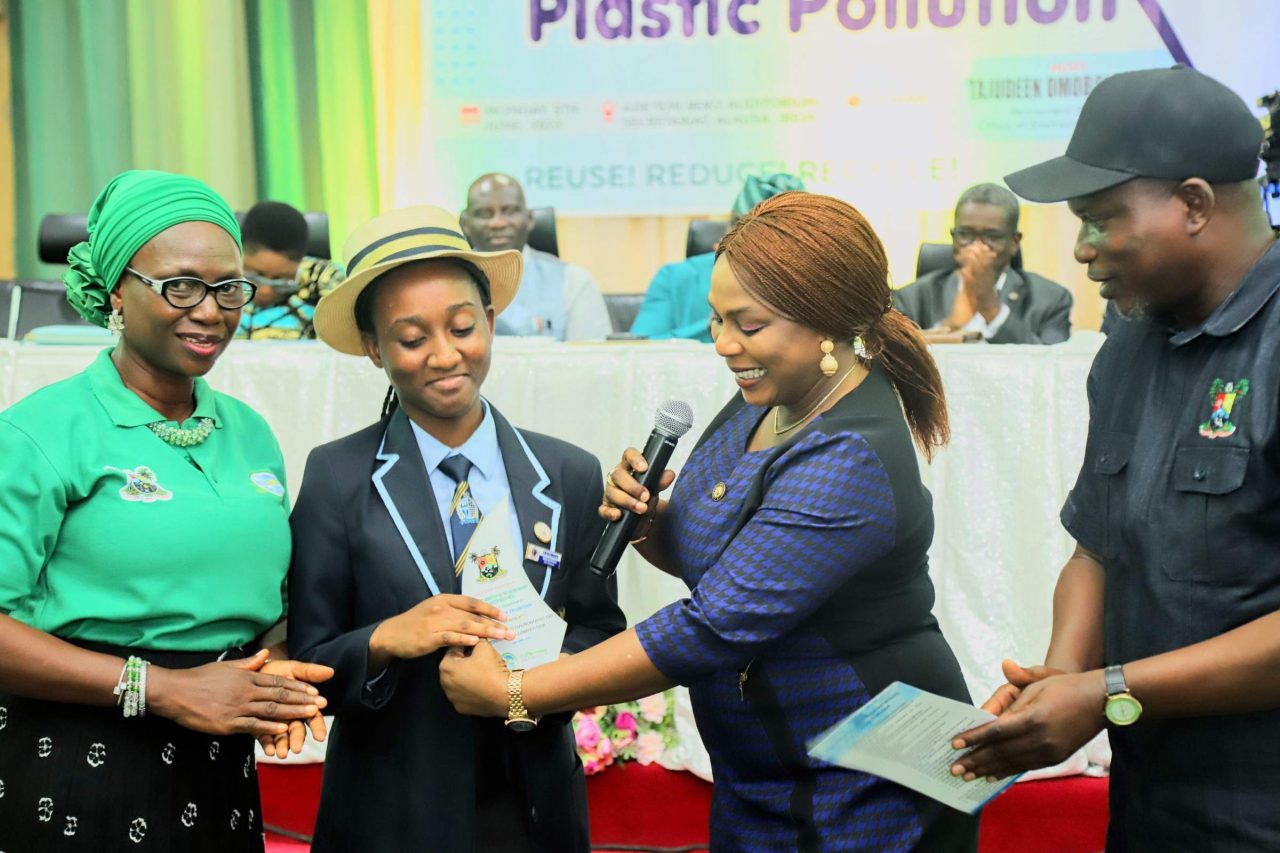 Sanwo-Olu, who was represented by the Permanent Secretary, Office of Drainage Services and Water Resources, Engineer Nurudeen Shodeinde, said the 2023 event which focused on environmental concerns such as pollution, human overpopulation, global warming, waste management and protection of wildlife is being celebrated in the 5 Divisions of the state namely Ikeja, Badagry, Ikorodu, Lagos-Island and Epe simultaneously.
He said in Nigeria, the total plastic waste generated annually is reported to be about 2.5 million tonnes, which include the daily production of about 60 million sachet water bags and single-use shopping bags, saying this situation is likely to worsen as the population grows from 220 million to projected 401 million by the end of 2050 thereby increasing the demand for plastics.
He stressed that Lagos State being a megacity with an approximated population of 22 million inhabitants, generates about 870,000 tonnes of plastic wastes annually which constitute about 15 percent of the total waste generated in the state.
He recalled that the United Nations Environment Programme (UNEP) had noted that the appearance of plastics in the early 20th century has amassed a production of over 9.5 billion metric tonnes of which more than 8 billion metric tonnes have become wastes.
He added that the packaging sector was identified as the largest generator of single-use plastic waste in the world, approximately 36 percent of all plastics produced are used in packaging, stressing that this includes single-use food and beverage containers which 85 per cent of them ended up as mismanaged waste in the environment.
He said globally, only 20 percent of plastics produced are being recycled while the rest are thrown into the drains and oceans, adding that this poses a greater threat to humanity.
He stated that as a demonstration of commitment to its ministerial responsibility, the Ministry of the Environment and Water Resources and some agencies such as Lagos Waste Management Authority (LAWMA), Lagos State Environmental Protection Agency (LASEPA) have initiated the launching of several initiatives such as policy initiation, environmental advocacy, buy-back programme amongst others to mitigate the challenge of plastic waste management in the state.
He explained that the Ministry also recently embarked on replication of the recycling banks in the government residential estates, schools, communities and markets after a successful implementation of a pilot scheme within the catchment areas of the state Secretariat Complex, Alausa.
He stated that as part of the efforts to make the state cleaner, the Ministry commenced the community recyclable management programme and the first one was launched in Ifako-Ijaye LGA in March 2023.
Earlier in his welcome address, the Permanent Secretary, Office of Environmental Services, Gaji Omobolaji who was represented by the Director, Environmental Education, Monsurat Banire said the steps governments and businesses are taking to tackle plastic pollution need to be scaled up through policies and awareness to accelerate this action and transition to a circular economy.
According to him, "We advocate multiple use plastics, encourage and promote recycling through 'Reduce, Reuse & Recycle' and 'Buy-back' initiatives," adding that the time has come to adopt the slogan #BeatPlasticPollution#.
He stressed that it was time for everyone to pay serious attention to the dangers of plastic pollution and adopt proactive measures to reduce single use plastic such as encouraging reusable plastics or biodegradable materials which are cost effective, eco-friendly and devoid of environmental nuisance amongst others.
Various categories of awards were presented to individuals, corporate organizations, Community Development Areas, schools amongst others including a former Permanent Secretary, (Environmental Services), Belinda Odeneye, Access Bank Plc, Dangote Cement Plc. While for the Youth Video Competition, Olubitan Oluwakorede emerged winner, Bada Abdulsalam and Bola Lawal Iyi-Krisit were first and second runners up.
The event was attended by dignitaries, including Permanent Secretaries of many Ministries including Public Service Office, Sunkanmi Oyegbola, Lands Bureau-Bode Agoro, Housing -Kamar Olowosago, Office of Civic Engagement- Engr Abiola Koseegbe, Office of Works, Arch Adebayo Odusanya and Parastatal Monitoring Office, Dr Olugbemiga Aina, Cabinet Office- Tolani Oshodi, Establishment and Training-Wale Musa, Office of Finance- Temitope Hundogan- Zeinab Oke-Osanyintolu- Youth and Social Development amongst others.
Advertisement