The Shares of Unity Bank Plc posted a percentage growth of 121.82 per cent on the Nigerian Stock Exchange to emerge the best performing stock for the first quarter ended March 31, 2018.
Data gathered by the News Agency of Nigeria showed that the stock, which opened for the year at 55k, closed for the quarter at N1.22 per share, indicating an increase of 121.82 per cent to emerge the best performing stock.

Ambrose Omordion, the Chief Operating Officer, InvestData Ltd, attributed the growth to alleged rumour of Milost Global Incorporated investment in the bank.
Omordion said the bullish run at the beginning of the year followed the rumour of foreign investor entering in the bank before it was eventually cancelled.
NAN reports that Wema Bank followed with a growth of 98 per cent having opened at 50k to close at 99k, while Cement Company of Northern Nigeria garnered 96.84 per cent to close at N18.70 against the opening price of N9.50.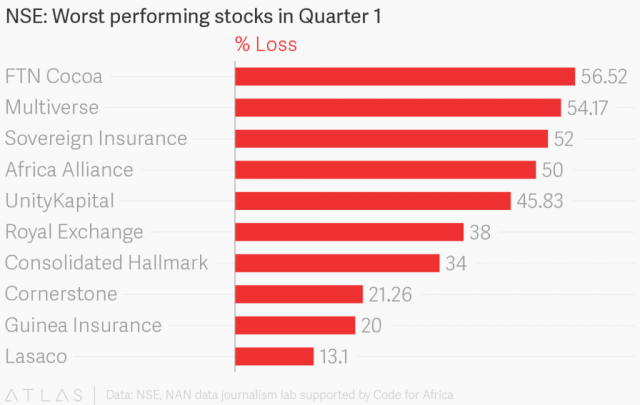 Others are NEM Insurance 74 per cent, NPF Microfinance Bank rose by 69.60 per cent, GSK improved by 57.33 per cent and Eterna achieved a growth of 56.10 per cent.
Sterling Bank appreciated by 54.87 per cent, Fidson Healthcare grew by 53.64 per cent, while FCMB Group inched 50.67 per cent during the period under review.
Conversely, FTN Cocoa was the worst performing stock in percentage terms during the period, dropping by 56.52 per cent to close at 20k compared with first quarter opening price of 45k.
Omordion attributed the decline to market forces and implementation of the exchange new price rule.
The agribusiness company was followed by Multiverse with a loss of 54.17 per cent due to ongoing market forces and non-adherence to post listing requirement.

Sovereign Trust Insurance depreciated by 52 per cent to close at 24k against the opening price of 50k, while Africa Alliance dipped 50 per cent having opened at 44k to close at 22k per share.
Unity Kapital Insurance 45.83 per cent, Royal Exchange Insurance 38 per cent, Consolidated Hallmark Insurance declined by 34 per cent, Cornerstone 21.26 per cent, Guinea Insurance dropped 20 per cent, while LASACO Assurance Plc lost 13.10 per cent.
NAN reports that the All-Share Index during the period rose by 8.53 per cent to close at 41,504.51 compared to the opening figure of 38,243.19.
Similarly, the market capitalisation for the period grew by N1.38 trillion or 10.14 per cent to close higher at N14.992 trillion, from an opening value of N13.61 trillion.
The market capitalisation for the period was supported by the listing of additional shares of the companies that recently concluded their rights issues.
A further breakdown of the data indicated that a total volume of 52.83 billion shares valued at N439.54 billion were exchanged by investors in 474,345 deals in the first quarter.
NAN also reports that investors bought and sold 21.71 billion shares worth N197.22 billion in 168,649 deals in January, while 11.95 billion shares valued at N106.08 billion were transacted in 122,255 deals in February.
Also, investors staked N136.24 billion on 19.17 billion shares achieved on 193,441 deals in March.
On second quarter market expectations, Omorodion said that market and economic outlook were still unpredictable and unstable due to institutional and foreign investors' anticipated gradual exit ahead of 2019 election.
He said that unclear monetary and fiscal policies direction in the first quarter, was a serious concern for investors.
According to him, investors should expect more volatility as selling down may continue if the political environment becomes more tensed.
"Investors are expected to reshuffle their portfolio to invest in some equities with strong fundamental and prospects of growing their earnings going forward," Omordion said.