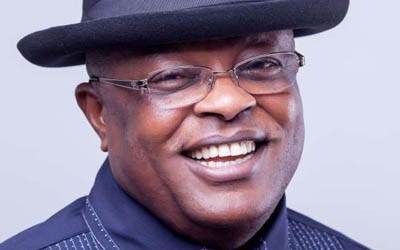 Governor David Umahi of Ebonyi State has vowed to sign the death warrants of persons convicted of kidnapping, cultism, armed robbery and other crimes in the state.
Umahi made the pronouncement when he visited the 20km rice field disputed by the Onweonweya and Mkpumekweoku communities in Izzi Local Government Area.
Umahi remarked that in keeping with the government's prison decongestion programme, murder, armed robbery, kidnapping and related cases must pass through the entire judicial process.
Umahi said: "We will not pardon such convicts whether they have repented or not, as our red biro will come out to sign anything for a man convicted of these crimes.
"We can only encourage their speedy trials but if they are found guilty, we will beg God and sign for such lives if the courts say so.
"When one experiences the kidnap of a relation, the person will understand the trauma people pass through on such occasions.
"We can show mercy for other crimes but they must be based on merit."
Umahi urged the people of Mkpumekweoku to be calm in the face of provocation, noting that the government would not entertain reprisal attacks.
He said: "We must bring the perpetrators of this act to book and I trust the commissioner of police to ensure that this is achieved.
"We have to live in peace and take advantage of our programmes to keep busy but not to make trouble."
Umahi thanked the Commissioner of Police and his officers for their prompt intervention, urging them to ensure adequate security in the affected areas.
The Caretaker Chairman of the council, Richard Idike, thanked the governor for the visit, noting that it shows his passion for the people's wellbeing.
Idike said: "The dead were hacked to death and covered with grasses on the disputed land.
"The dispute has spanned more than 30 years with all efforts to settle it by stakeholders proving abortive."
Mercy Aloh, an indigene of Onweonweya community, called for sustained security presence in the area as many people were afraid to return home.
Three people died as a result of the crisis with several houses burnt and properties worth millions of naira destroyed.