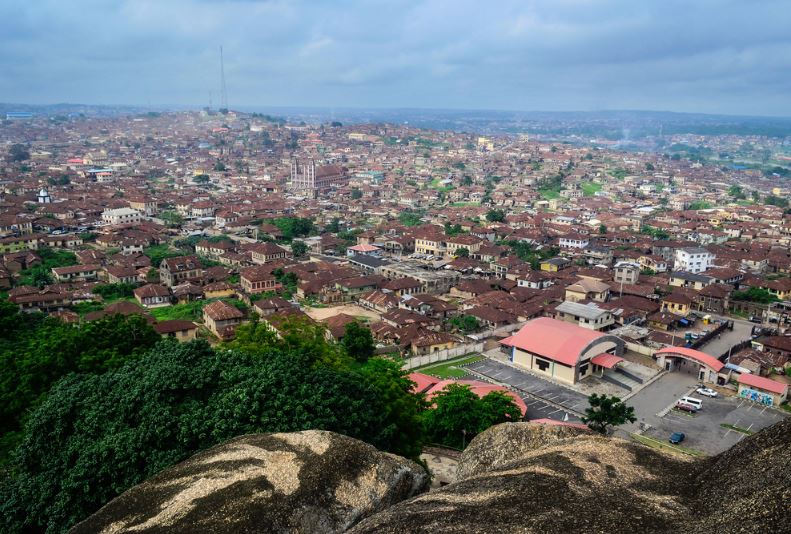 Thousands troop to see mystery trees in Ogun
The Moringa trees were sighted at 6 and 9, Unity Street, Ire-akari Estate, Iloye, Abule Iroko, Ado-Odo Ota, Ogun State on December 24, 2016 and January 2, 2017 respectively
Thousands of people have besieged the residence of one Micheal Ibironke in Ogun State since two trees appeared with the inscription of an Arabic word believe to be the name of Allah on it.
The Moringa trees were sighted at 6 and 9, Unity Street, Ire-akari Estate, Iloye, Abule Iroko, Ado-Odo Ota, Ogun State on December 24, 2016 and January 2, 2017 respectively.
Ibironke, the occupant of the house where one of the trees was found, said what happened remained a mystery to him.
Ibironke, who revealed he had been living in the house for more than 17 years, said the Moringa trees were planted in 2014.
He told a correspondent of the News Agency of Nigeria that since the discovery, thousands of people of different faith have visited to see the trees, offer prayers and appreciate the work of God.
He said: "On December 26, 2016, we celebrated Christmas party in my compound and did not discover anything.
"But on the January 2 while I was doing my morning exercise with my wife, she called my attention to it.
"My wife was the one that discovered it.
"We are not Muslims.
"So we called a Muslim brother (simply identified Ajibade) to explain the strange thing.
"We also invited an Imam, who also confirmed it.
"Over 10,000 people of different faith have visited my house since January 2.
"On Thursday, at about 12noon, my son counted over 3,000 people.
"We are not complaining about the disturbance because it will mean we do not value the work of God.
"We are happy about it.
"People are greeting and praying for us.
"What happened has not affected our faith as Christians.
"People are celebrating and praising God.
"It is a mystery to everyone.
"We have been receiving people from different places – Mushin, Ifo, Owode-Yewa and even from Omu-Aran in Kwara State.
"My house has become a tourist centre.
"What God revealed to us is that He is the greatest, no man is equal to Him and He can reveal Himself in anyway."
A Pastor, Olumide Olagbegi, also told NAN that God was revealing to the people that He is an Elvon God (He is only one).
Olagbegi said it could mean so many things to a layman. but believed God can come in so many ways.
A Muslim cleric, Imam Hamzat Oyeyemi, told NAN that the sign was of God, adding it was a sign of goodness to the family and the people.
Oyeyemi said: "It is a miracle.
"This Arabic word appeared in a Christian house.
"It is a sign of goodness.
"It is a mystery to mankind and people should be good.
"God has 99 names.
"The first is Allah.
"The name is from God.
"No one can share a name with God."
Michael Dada, the owner of the second house where the Arabic word appeared, said the tree was planted since 2010, but showed no sign of any misery until December 2016.
Dada said: "There was a bush around the house, so I called some boys to help me clear it.
"It was in the process that the boys saw it.
"We first discovered it on December 24, but paid no attention to it because we are Christians.
"We can't count the number of the people that had visited this tree since the beginning of 2017.
"We invited some Muslims, they told us the name of Allah was written on it.
"We are Christians so we do not know the meaning.
"I don't want to turn it to anything.
"Anybody can come and pray as they believe.
"It is a mystery.
"We are not Muslims so we don't know what to do."
Meanwhile, photographers and petty traders, especially those who sell sachet water and snacks, are making brisk business at the scene.
NAN.