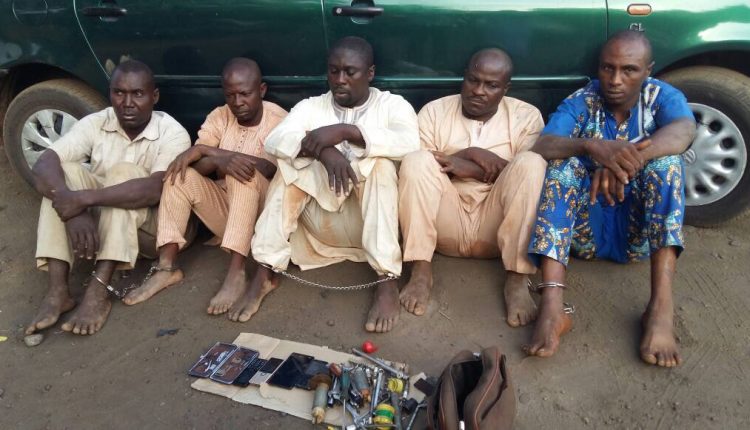 Syndicate robbing Nigerians who withdraw money from banks arrested
The Police has nabbed members of a five-man syndicate that robs Nigerians who withdraw money from banks.
The arrest was effected on Friday by the Inspector General of Police Special Intelligence Response Team.
Before their arrest, the syndicate members had their network covering Abuja, Kaduna, Kano, Katsina and Zamfara States, where they had robbed several persons.
It was learnt that their arrest followed credible intelligence on members of the gang.
After serious follow up on the intelligence, operatives of IRT, led by Superintendent of Police Usman Maibindiga, the team succeeded in arresting all five members of the syndicate that specializes in trailing cars carrying money withdrawn from banks by innocent citizens and robbing them.
Suspects arrested are: Ademola Adekunle, 32, from Oyo State; Useini Aminu, 44, a native of Kogi State; Babangida Abdullahi, 35, of Zamfara State;Tunde Adebola, 40, a native of Ogun State; and Ibrahim Abdullahi, 40.
They were all arrested in Kaduna State.
Master keys, spanner, pliers and several tools used in opening car and breaking car glasses were recovered from the suspects.