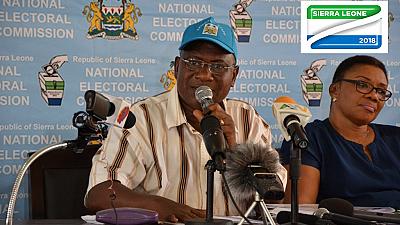 Sierra Leone: Maada Bio, Kamara go for run-off
The NEC Chairman, Mohamed Conteh, made the declaration while announcing the 100 per cent result of the election at the commission headquarters on Tuesday in Freetown
Sierra Leone's National Electoral Commission has declared March 27 for a run-off as no presidential candidate scored the mandatory 55 per cent of total valid votes cast in the March 7 election.
The NEC Chairman, Mohamed Conteh, made the declaration while announcing the 100 per cent result of the election at the commission headquarters on Tuesday in Freetown.
According to the result, the opposition candidate, Julius Maada Bio, led with 1,097,482 votes, making 43.3 per cent of the 2,537,122 votes cast.
Samura Wilson Kamara, candidate of the ruling party, came second with 1,082,748 votes, which is 42.7 per cent of the total vote cast.
Kolle Yemkulla of National Grand Coalition polled 174,014 votes; Kamaraimba Mansaray, candidate of the Alliance Democratic Party, secured 26,704 votes; while Musa Tarawally of Citizens' Democratic Party got 11,493.
Samuel Sam-Sumana of Coalition for Change scored 87,720 votes; Chernoh Bah of National Democratic Alliance, 8,344 votes; and John O'Dwyer of National Progressives Democrats, 34,239 votes.
Patrick Sandy, National Unity and Reconciliation Party, scored 2,318 votes; Baba Conteh of Peace and Liberation Party, 4,233; Francis Margai, Peoples Movement for Democratic Change, 9,864 votes; and Victor Williams of Republic National Independent Party, 2,555 votes.
Conteh said Jemba Ngobeh of Revolution United Front Party got 12,827 votes; Mohamed Sowa-Turay, United Democratic Movement, 5,695; Henry Kabuta, United National Peoples Party, 3,825 votes; and Olufemi Claudius-Cole of Unity Party scored 3,825 votes.
Conteh added: "Since none of the candidates of the parties for the presidential election received 55 per cent of the valid vote cast pursuant to section 43(2)e and (f) of the Constitution of Sierra Leone, 1991, there will be a second election (run-off).
"The election will be exclusive between the APC presidential candidate, Dr. Samura Mathew Wilson Kamara, and the SLPP presidential candidate, Julius Maada Bio.
"Polling in the second election (rerun) between the two candidates will be concluded nationwide on Tuesday, March 27."
Conteh explained that after deliberation with political parties requesting for re-counts, the commission ordered recounts in 154 polling stations.
He said: "Results for these polling stations are included in this result.
"The results from 221 polling stations were excluded, including voters included on supplementary list.
"Accordingly, pursuant to section 87(2) of the Public Elections Act, 2012, the results of those polling stations are declared null and void and are not included in this result."
Conteh said 2,676,549 people voted in the election, with 139,427 ballots declared invalid.