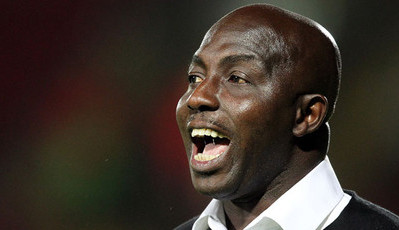 The national U-23 team handler, Samson Siasia, has downplayed the team's 4-1 win over their Gabonese counterparts.
Siasia said the Dream Team VI is still work in progress.
SiaOne, as he fondly called, stated this in a post-match chat in Libreville on Saturday.
The gaffer commended the players for putting up a brave show against their opponents despite playing big time football for the first time.
He said: "The Gabonese were no push overs as they gave this team a good fight, but I'm happy that the boys played to instruction and that was why we were able to beat the hosts.
"Putting in mind that this team has been together for barely three months, then Nigerians should appreciate what these boy did.
"I am really impressed with all of them.
"They played as a team.
"Meaning that all the hard work we put them through were not in vain."
Siasia however urged Nigerians to come out en masse in the return leg, saying there is a bright future for Nigerian football in the new crop of Under -23 team.
Dream Team VI defeated their Gabonese counterparts 1-4 courtesy of Junior Ajayi, Oghenekaro Etebo, and Peter Onyekachi goals.