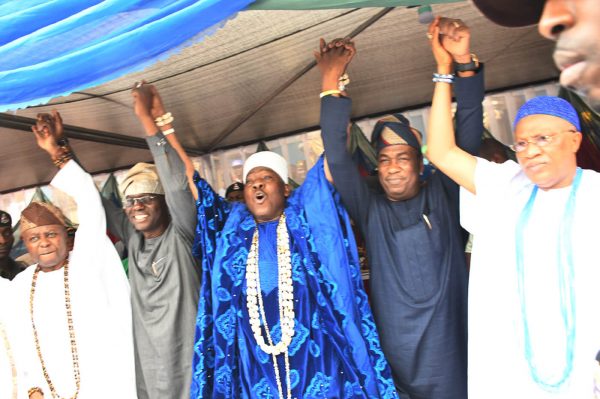 The Ojora of Ijora Kingdom in Lagos State, Oba Abdul-Fatai Aremu Oyeyinka Aromire, has implored the All Progressives Congress governorship candidate, Babajide Sanwo-Olu, and his running mate, Dr. Obafemi Hamzat, to seek wise counsel when they get to the Government House.
The traditional ruler gave the admonition when he hosted the candidates in his palace in the company of other kings and chiefs of Ijora Kingdom.
Oba Aromire noted that to successfully lead a cosmopolitan state like Lagos with diverse people of different beliefs and culture requires wisdom and sound advice, which, he said, elders in Lagos State are in a position to offer.
The monarch also urged Sanwo-Olu and Hamzat to create jobs opportunities for young people through their policies because the level of unemployment in the state and Nigeria as a whole has reached a crisis level.
He said: "Our major demands from you is that when you get to government by the grace of God, please do not forget the youth.
"We need our young people in Ijora and Lagos State to be gainfully employed.
"We know government cannot employ everyone but government can create opportunities for the youth to be self-reliant.
"Our roads in Ijora are very bad.
"We want you to fix the roads.
"Our people are ready to support you to win.
"I pray for you and wish you all the best in the campaign and victory in the election.
"Please don't turn your back on us when you become governor."
Sanwo-Olu in his response assured the monarchs and the chiefs from Ijora kingdom that their demands will be met as government exists to make life good for the people.
He said: "With your support and that of the people of Ijora we are sure of victory in this election.
"We are here today in continuation of our engagements with leaders in Lagos.
"We will always seek wise counsel.
"We have plans on job creation for young people, especially in the area of technology.
"On your roads, we will fix roads in Ijora and across the state.
"All we want is your support and to get our people to vote for our party."