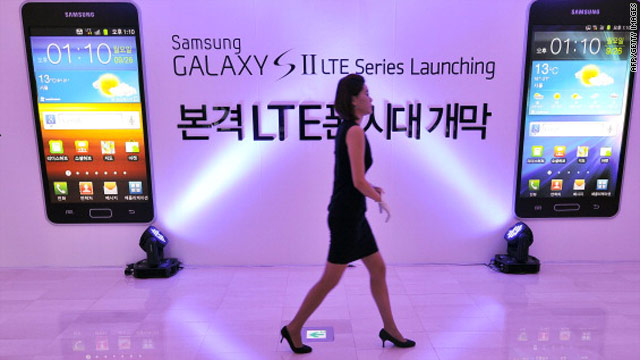 Samsung topples Apple with its smartphone sales
All things considered, Samsung simply had a stellar year. The South Korean electronics maker toppled arch-rival Apple in smartphone sales in the third quarter. Now thanks to those sales, Samsung estimates its fourth quarter profits will shatter its current record.
For the October to December period, Samsung said it expects to add $4.5 billion to its bottom line. For the same quarter in 2010, it hauled in $2.6 billion. That's a 73% pop.
The reason? When you think Samsung profits, think smartphone popularity.
Sales of the company's high-end mobile phones helped boost 2011 profits into the stratosphere.
South Korean analysts estimate Samsung sold as many as 35 million smart phones in the fourth quarter. Looking ahead, total smartphone sales could soar to 170 million units by the end of this year, according to a report by BNP Paribas and Korea Investment and Securities.
And it's numbers like those that may keep Samsung king in the global smartphone world – and safe from Apple's advances.
To be sure, there have been setbacks along the way. The most recent happened this week.
An Italian court ruled against Samsung's bid to stop sales of the iPhone 4S and follows similar rulings from a French court last month and a Dutch court last October. In those cases, Samsung argued Apple violated some of its patents. Not only that, Apple won three injunctions against Samsung in Australia, Germany and the Netherlands.
And yet these protracted patent battles don't seem to have dented Samsung's profits much.
On Friday, Samsung's share price fell nearly 1.5% – but that's largely considered to be profit-taking. Many investors had already been expecting the good news and it had been priced in.
As Samsung rings in a new year, its shareholders and investors expect to hear even better profit news – loud and clear.