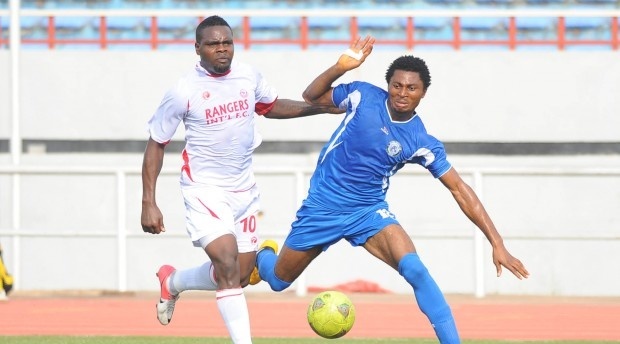 Foster Chime, the Media Director of Rangers International FC, says the club will be releasing its list of 35 players for the club's 2016/2017 season campaigns after its African tour.
The News Agency of Nigeria reports that Rangers FC, which is the current Nigerian Professional Football League champions, will start its pre-season African tour ahead of the 2016/2017 season on January 6.
NAN recalls that the Flying Antelopes would be touring four African countries in less than two weeks on road.
These countries in order of schedule are Benin Republic, Togo, Ghana and Cameroon.
Chime told NAN in Enugu on Monday that the team's manager, Amibi Ezeaku, is presently in Abuja facilitating the registration of Rangers' players for CAF, NPFL and Federations Cup competitions for the 2016/2017 season.
He said: "We want to comprehensively complete the registration in Abuja before releasing the list of the players for our continental and national campaigns for 2016/2017 season.
"However, it is clear we are now retaining only 23 of our old players since we cannot meet up with huge sign-on fees and allowances demanded by some of the old players.
"This means that we would be settling with 12 fresh players, which includes some foreign players, to add pep to the club as we are going continental to do the country proud."
The media director said that the registered players would adorn Rangers' White and Red jerseys for the new season.
Rangers FC would kick-off its 2016/2017 NPFL campaign by hosting Aba Warriors on January 15 at the Nnamdi Azikiwe Stadium, Enugu, popularly referred to as The Cathedral.
The club would be visiting JS Saoura of Algeria on February 10 for its first leg of the CAF Champions League, while it would be hosting the Algerian club on February 17 in Enugu for the second leg of the continental tie.
NAN.