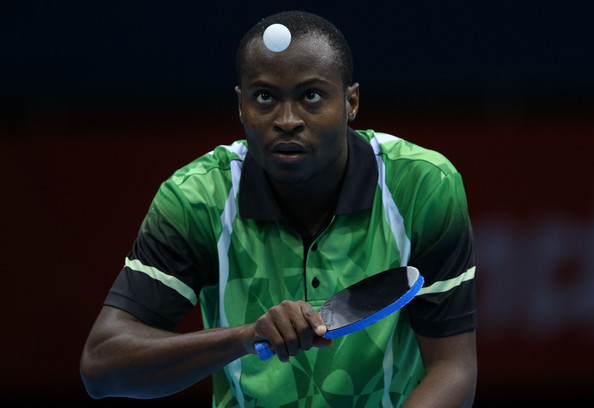 Quadri set for Indian Table Tennis League 
Quadri will also team up with Panagiotis Gionis of Greece as the male foreign players while the female names are Hong Kong's Doo Hoi Kem and Russia's Polina Mikhailova in the team known as Oilmax Stag Yoodhas with the owner being Vivek Kohli
The global status of Aruna Quadri continues to attract interest from world class tournament as the 2014 ITTF Star Player has been listed among the 24 foreign players for the maiden Ultimate Table Tennis League holding in Chennai, India.
However, despite the second round exit of Quadri at the just concluded ITTF World Championships, the Nigerian has risen to 35 from 37 in the latest ITTF ranking released for June 2017.
Quadri will also team up with Panagiotis Gionis of Greece as the male foreign players while the female names are Hong Kong's Doo Hoi Kem and Russia's Polina Mikhailova in the team known as Oilmax Stag Yoodhas with the owner being Vivek Kohli.
Hong Kong's Wong Chun Ting and Germany's Han Ying will head the list of foreign players who will compete in Ultimate Table Tennis starting on July 13.
In the list of foreign players released by the organizers – 11Even Sports, Quadri will be joined in the tournament by Wong Chun Ting (Hong Kong), Marcos Freitas (Portugal), Tiago Apolonia (Portugal), Stefan Fegerl (Austria), Kou Lei (Ukraine), Panagiotis Gionis (Greece), Andrej Gacina (Croatia), Pär Gerell (Sweden), Li Ping (Qatar), Joäo Monteiro (Portugal) and Liam Pitchford (England) in the men's category.
The foreign female players are Han Ying (Germany), Wu Yang (China), Doo Hoi Kem (Hong Kong), Hu Melek (Turkey), Liu Jia (Austria), Petrissa Solja (Germany), Lee Ho Ching (Hong Kong), Fu Yu (Portugal), Li Qian (Poland), Sabine Winter (Germany), Polina Mikhailova (Russia) and Tetyana Bilenko (Ukraine).
The tournament is the first ever professional table tennis league to be held in India, the concept comprises six franchises and will be staged in three cities.