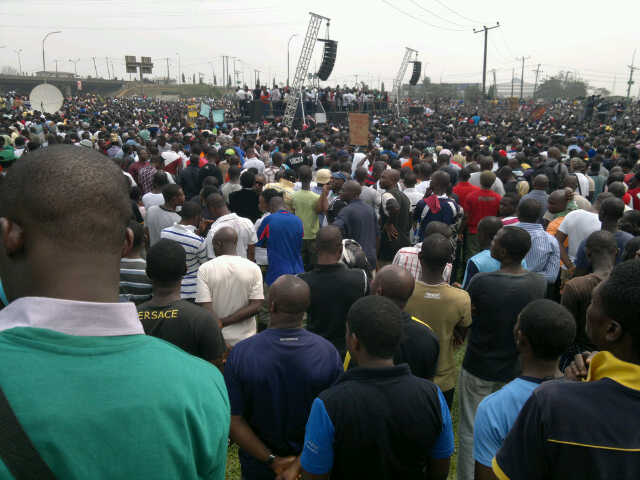 Protesters storm homes of Tinubu, Otedola, Otudeko as Day 2 ends
Thousands of protesters taking part in the Day 2 of the mass action aimed at reversing the pump price of petrol and instilling transparency in governance stormed the Lagos homes of some major players in the political and economic sectors of the country.
Those whose houses the protesters stormed included former Lagos State Governor, Asiwaju Bola Ahmed Tinubu; owner of African Petroleum, Mr. Femi Otedola; and a major player in the business industry, Oba Otudeko.
None of them was at home when the protesters visited their homes.
Tinubu, a former governor of Lagos State is believed to have his hands in almost all business transactions in Lagos State.
He is believed to be a major shareholder in the LCC, which is constructing the Lekki-Epe Expressway, on which tollgates have been erected though uncompleted.
He is also believed to have substantial interest in OANDO Petroleum, though the face of the company is Mr. Wale Tinubu.
Wale is believed to be Tinubu's front.
Tinubu's participation in the Day 1 of the mass action rally held in Lagos on Monday was said to have become very disturbing to some people who see him as a part of the system oppressing Nigerians, hence the need to take the protest to his Ikoyi, Lagos home today.
Otedola, a major stakeholder in the petroleum industry in Nigeria, is believed to be one of the beneficiaries of the huge sums the government has put into subsidizing petroleum products in the last few years.
Otedola is the sole importer of kerosene into Nigeria.
And though government pegged the price of kerosene at N50 per litre, in most cases it is sold for as high as N150 per litre, even at filling stations.
As reported earlier on this site today, Otedola, in a Wikileaks report, complained about being shortchanged in the process of oil lifting in the country (see on this site: The fraud Nigerians are subsidizing – Wikileaks).
He said this was one of the reasons he did not utilize the licence he was given for a refinery and also reneged on his earlier decision to buy the government-run refinery in Kaduna.
He is a part of the Economic Team of President Goodluck Jonathan.
Otudeko has also always been a big time player on the economic scene, switching from the oil and gas industry to telecommunications and manufacturing.
On Day 2 of the mass protest, the enforcement of the no-work order was effective.
Thousands of Nigerians, again, gathered at the Gani Fawehinmi Park to demand for the reversal of the price of petrol to N65.
The turnout, like that of Monday, was also very impressive.
Reports from Abuja also indicated that the mass action was well observed.
More reports on the Day 2 of the mass action coming soon.