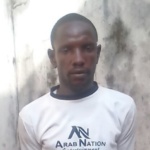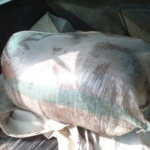 The Lagos State Police Command said upon discreet investigation and intelligence gathering, one Haruna Abubakar who murdered his friend and co-worker, shredded him to pieces and dumped him in the bush has been arrested.
The suspect and the victim are co-workers in a farm in Ibeju lekki, Lagos State, where the suspect is a guard and the victim an herdsman.
On December 3, 2016, the suspect, aged 28, had an altercation with the victim, aged 27, which resulted to a physical fight and in the process the suspect hauled down the deceased with a dagger, cut him into pieces, packed him in a sack and dumped him in the bush.
The brother to the deceased, simply identified as Adamu, reported the case of a missing person to the police after his brother did not return home after the day's work.
The clue gathered by the police led to the arrest of the suspect who later confessed to the crime and led operatives to the scene where the dismembered body was recovered.
The Commissioner of Police, Fatai Owoseni, has directed that the case be transferred to the SCIID, Panti, Yaba, Lagos State for further investigation and prosecution.