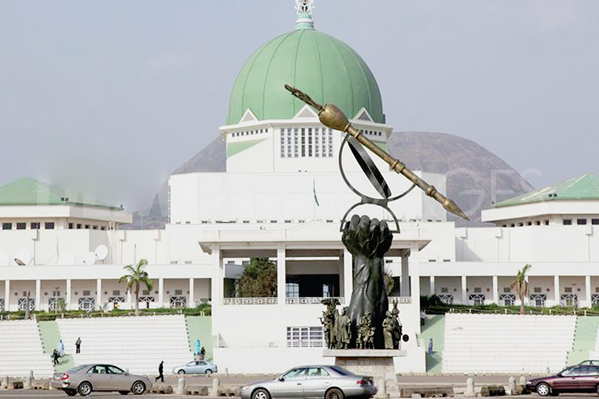 Workers from the Organised Labour seeking autonomy for local governments on Friday staged a rally at the meeting venue of the National Assembly's Joint Committee on Constitutional Review in Lagos.
The workers gathered at the entrance of the Intercontinental Hotel, Victoria Island at about 8am with placards singing and chanting solidarity songs.
The News Agency of Nigeria reports that the workers, however, did not disrupt activities at the hotel but chanted various solidarity songs to express their grievances.
The workers were from the Nigeria Union of Local Government Employees, Nigeria Union of Teachers and the Medical and Health Workers Union of Nigeria.
Femi Gbajabiamila, an All Progressives Congress leader in the House of Representatives, later addressed the workers and promised that every request brought before the committee would be addressed.
According to Gbajabiamila, the request of the workers on local government autonomy and the enhancement of primary education were important.
He said that the committee, after its meeting, would convey their complaints to the National Assembly, but advised the workers to also take their case to the State Assemblies.
He said: "I suggest you focus on taking the issues to the State Assemblies but we have heard and listened to you, we will take your issue to the National Assembly."
Ahmed Lawan, the Senate Leader, also assured that the lawmakers would continue to deliberate on the issues raised by the workers.
Lawan said: "We will convey your demand to our colleagues and will continue to engage the union leaders until we give you what you want."
Earlier, Michael Olukoya, the NUT President, said the workers held the rally because they wanted all the state governments to contribute to the development of primary education.
Olukoya reiterated that primary education was the foundation of all forms of education and deserved to be properly funded by the three tiers of government.
He said that it was the responsibility of all union leaders to ensure that the welfare of their members were adequately catered for, saying that that was why the rally was holding at the meeting venue.
Also, Ibrahim Khaleel, the NULGE President, said the workers converged to ask for autonomy for local governments, to ensure that governance was all inclusive.
The demand of the workers in their placards were for local government autonomy, primary school teacher's salary as a first line charge on the federation account and unfettered operation of primary health care nationwide.