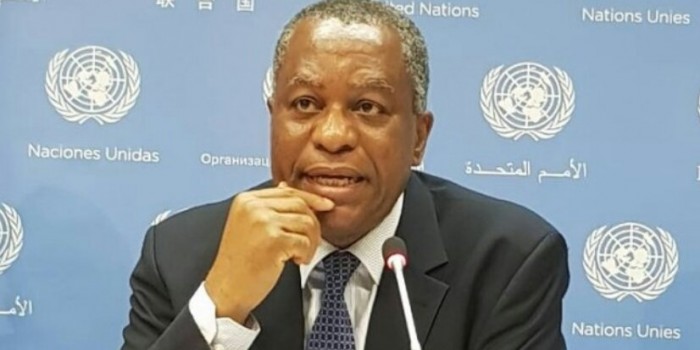 Onyeama urges members of boards to re-inforce Nigeria's foreign decision making
Onyeama made the call on Thursday while inaugurating some boards under the ministry.
Minister of Foreign Affairs, Geoffrey Onyeama, has urged members of the board of four parastatal agencies to re-inforce Nigeria's foreign decision making and promote the country's domestic vision and ideals.
Onyeama made the call on Thursday while inaugurating some boards under the ministry.
The boards included Nigerian Institute of International Affairs, Institute for Peace and Conflict Resolution, Directorate of Technical Cooperation in Africa and Nigerian Directorate of Technical Aid Corps.
He urged the new appointees to live up to the confidence been reposed on them by President Muhammadu Buhari, by being committed and dedicated to their duty.
According to him, your appointment is a call to service and it is not only an honour, but also a privilege to serve our nation.
He said: "I am very confident you will all embrace pour responsibilities with the sense of patriotism and that you will contribute your quota, to the success of this administration.
"We expect you to evolve strategies to support the Ministry and facilitate effective delivery of its mandate.
"I encourage you to exert all your energy and support government to entrench accountability and transparency in the conduct of official business.
"The guidelines from the Secretary to Government of the Federation provide comprehensive information on parameters for operations, so familiarise yourself with that to enhance your performance, on the dos and don'ts.
"Mr. President has demonstrated confidence in you and we also re-echo that confidence and we will do everything possible to support you, to make sure that you succeed."
He further advised them to be prudent while carrying out during the cause of the official responsibility, to enable the Ministry achieve targets.
Earlier, Khadija Ibrahim, Minister of State for Foreign Affairs, urged the new appointees to work towards the promotion of knowledge-based and technology driven services that the ministry is known for.
Ibrahim congratulated the members on their appointment while urging them to carry out their responsibility with respect of patriotism, commitment and diligence.
Also speaking, Ambassador Olukunle Bamgbose, Permanent Secretary of the Ministry, described the inauguration of the board as apt, because it would provide the needed manpower support in the ministry.
According to him, the boards will not only bridge gap in the democratic space, but it will also complement government effort and commitment to improve public service delivery.
Bamgbose said: "This is in line with the expectations of Nigerians which is high; it is to revive the agencies to live-up to operational mandate, based on the agenda of this administration."
Speaking on behalf of the inaugurated boards, Bature Sambo, thanked the ministry for their appointment and promised to bring their wealth of experience to bear, to ensure growth.
Sambo said: "We shall do everything within our power to encourage international relations, on behalf of the appointed board members; we express our profound gratitude for giving us opportunity to serve."
Sambo is the Chairman of NIIA, Senator Abba Aji, is Chairman of IPCR, Minister of State for Foreign Affairs, Ibrahim is Chairman of DTCA.
While Pius Olakunle Osunyikanmi, Director General/ Chief Executive Officer of NDTAC was appointed Chairman of the board.