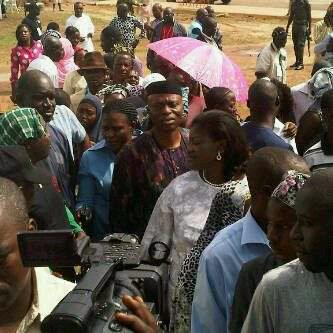 The Ondo State Governor, Dr. Olusegun Mimiko, is in the early lead as results of Saturday's gubernatorial election in Ondo State has started rolling in.
The election, considered well managed by all stakeholders, suffered the initial setbacks of late arrival of election materials and officials and rumour of arrests of party chieftains among others.
In the results released officially so far, Mimiko, who is seeking a second term mandate on the platform of the Labour Party, is leading his main challengers, Rotimi Akeredolu of the Action Congress of Nigeria and Olusola Oke of the Peoples Democratic Party.
Mimiko defeated both Oke and Akeredolu in their wards and won in his.
In Ward 7, Ondo town, where he hails from, Mimiko scored 348 votes while Akeredolu had 16 and Oke 11.
In Akeredolu's Ijebu 2, Ward 5, Unit 6 in Owo, Ondo State, Mimiko got 144 votes to defeat the son of the soil who received 139 votes, while Oke secured 35 votes.
When accreditation commenced in the morning, it was accusations and counter-accusations among the leading political parties.
One of such allegations was the arrest of Chief Donald Omotayo Alasoadura, the Director General of the Aketi Campaign Organisation, the campaign team of Akeredolu.
Alasoadura was alleged to have been in possession of cash of over N7 million when he was arrested.
There was also the purported arrest of the Ondo State Commissioner for Special Duties, Niran Sule, and the Interim Chairman of Owo Local Government Area, Hon. Tunji Ojomo.
Sule and Ojomo were reported to have been caught with arms and ammunition.
The Ondo State Government denied the arrest of the duo.
So also did the ACO debunk the news of the arrest of Alasoadura.
Counting of votes was ongoing as at press time.
Developments will be made available from time to time on this news site.
You can follow us by subscribing to our newsletter by visiting the website at www.theeagleonline.com.ng.
It is a process that takes less than 10 seconds once on the website.
You can also follow us on Facebook and Twitter.
The Facebook address is The Eagle Online while we can be located on Twitter as DEagleOnline.